Students Pursue Research Interests, PhD through Northwestern University Interdepartmental Neuroscience Program
The Northwestern University Interdepartmental Neuroscience Program (NUIN) admits 20-25 students annually to its six-year program

. Students complete three laboratory rotations and then disburse into thesis-focused research labs in their quest to earn a PhD in neuroscience.
A collaboration between the Feinberg School of Medicine, the Weinberg College of Arts and Sciences, the Robert R. McCormick School of Engineering and Applied Science, and the School of Communication, the program includes more than 150 faculty members from 20 departments.
"NUIN is truly a cross-campus PhD program," says David M. Schneeweis, PhD, assistant director of NUIN. "The program symbolizes the One Northwestern philosophy, which fosters scientific collaboration across Northwestern's campuses in order to create an integrated biomedical and life sciences enterprise."
Most students enter the program with a bachelor's degree, although some join following a master's or professional degree program. Previous degree majors range from engineering, psychology, and physical therapy, to the more expected majors in the life sciences. Schneeweis says the variety of backgrounds students bring with them assists neuroscience in remaining a broad field of study.
"For the research enterprise to thrive at Northwestern, it's necessary to recruit students with a diversity of skill sets, interests, and training experience," says Schneeweis.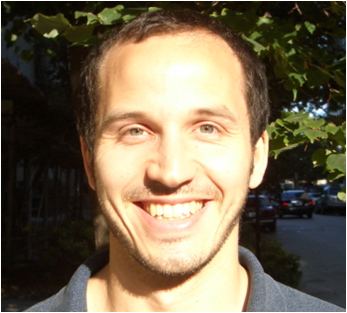 Ben Suter, a third-year northwestern university interdepartmental neuroscience program
PhD student, studies
in the lab of Gordon Shepherd, MD, PhD, assistant professor in the Department of Physiology
.
Students receive training in the responsible conduct of research and have access to a variety of professional development programs to help them prepare for a range of career options. Students must also complete a two-quarter teaching assistantship and nine credits of graded coursework. Along the way, milestones include a qualifying exam, thesis proposal, and thesis defense.
"NUIN students contribute mightily to the research enterprise," says Schneeweis, adding that from July 2008 to July 2009, NUIN students authored 87 unique publications, 27 of which were funded by major individual awards (i.e., grants submitted by the student), and one student even received a prestigious Fulbright scholarship.
NUIN administers six National Institutes of Health (NIH) training programs, which not only provide students with financial support throughout their tenure, but enrich the intellectual environment by sponsoring activities like seminars, research colloquia, and retreats — events that connect faculty, post-docs, and students in a way that fosters interaction and collaboration.
Ben Suter, a third-year student studying in the lab of Gordon Shepherd, MD, PhD, assistant professor in the Department of Physiology, came to NUIN after earning degrees in physics and civil engineering from Stanford University. Suter developed an interest in epilepsy and brain circuitry during his undergraduate studies.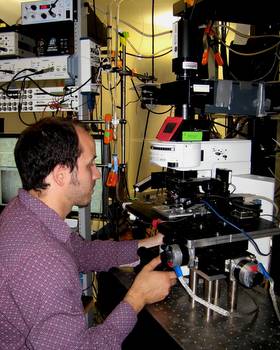 Suter prepares to record from a pyramidal neuron in motor cortex using a microscope custom-built for laser-scanning electrophysiology experiments.
"I realized then that some of the most exciting, interesting work I'd been exposed to was in the field of neuroscience," says Suter. "I am intrigued by human beings — how and why we work the way we do — and see neuroscience as a way to satisfy my curiosity while contributing to the understanding of our brain in health and in disease."
As a first-year student at Northwestern, Suter rotated through the labs of Shepherd, Lee Miller, PhD, professor of physiology and physical medicine and rehabilitation, and Joshua Singer, PhD, assistant professor of physiology and ophthalmology, before deciding on his concentration. Now working with principal investigator (PI) Shepherd, Suter studies the motor cortex (the part of the brain that controls movement), focusing on the different types of brain cells in this area and the circuits that they form.
As a contributor to the lab, Suter has authored a paper about the lab's data acquisition system; contributed data and analysis to other publications; completed a collaborative project with another lab in the department; and learned many new experimental techniques.
For his thesis, Suter plans to measure and model how information entering the motor cortex gets transmitted throughout the body. Like many of his peers, Suter's research has been supported by a NIH early years training grant.
"I am well supported by my PI and the program," Suter says. "And as a student in NUIN, I am surrounded by people who share my passion for neuroscience."