Feinberg Students an Integral Part of Psychiatric Care Team
at Chicago's CommunityHealth Clinic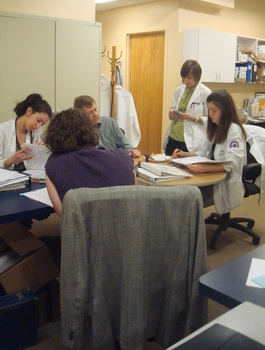 At CommunityHealth Clinic on Chicago's west side, Feinberg students, faculty, and residents donate their time and talents to treat underserved and uninsured patients in need of psychiatric care.
Each Tuesday, Northwestern University Feinberg School of Medicine students accompany faculty and residents from the Department of Psychiatry and Behavioral Sciences (PBS) to Chicago's west side CommunityHealth Clinic (CHC) to donate their talents to treat underserved and uninsured patients in need of psychiatric care.
Second-year students and clinic coordinators Ilya Karagodin, Nisha Mehta, and Michael Donnan, ensure that two first- or second-year medical students, one resident, and one attending physician are present at the clinic each week. Two third-year medical students are also assigned to the session as part of their clinical clerkship rotation in psychiatry.
"With the different classes working together, the CHC program breeds camaraderie," Karagodin says. "Third-years feel a sense of pride passing along the knowledge they've acquired along the way to first-years."
At CHC, the first- and third-year students interview the patient together, discuss the case with the resident and attending, and then the MDs discuss the case with the patient and write prescriptions, as necessary. The student coordinators manage the database of patients and the flow of five or six patients through the clinic.
"First-year students eagerly volunteer for clinic; they know that the experience presenting cases to attendings, writing patient notes, and working alongside an interpreter will better prepare them for the years ahead," Karagodin says. "Regardless of their focus after medical school, these skills will apply."
Keeping the volunteer system running smoothly proves crucial to the clinic's patients, who rely on the medical professionals and professionals-in-training for the continuous care they need in order to get better.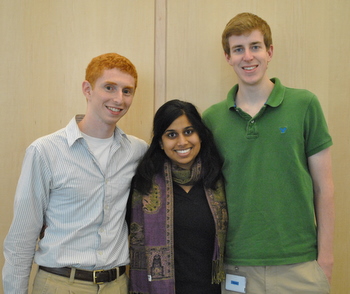 Second-year students (L-R) Ilya Karagodin, Nisha Mehta, and Michael Donnan serve as coordinators for the CommunityHealth Clinic, managing the patient database and the flow of patients through the clinic each Tuesday.
"Our patients are lacking resources and don't' have access to therapies," says Mehta. "We have an opportunity to address patients' issues; we help these individuals to lead more productive, successful lives by alleviating their depression or anxiety."
Ronald Krasner, MD, associate professor emeritus in the PBS department, helped found the program in 2005 along with Kevin Gobeske, a Medical Scientist Training Program student who recently returned to clinical work as a third-year medical student. At that time, Krasner was the interim chair of the department and Gobeske was a member of the student organization Students for Mental Health.
Like Krasner, Gobeske saw a need for generating awareness, access, and experience in mental health issues at the medical school and wanted to be part of developing a solution. After a year of meetings to discuss the feasibility of this strictly volunteer-based health center, the Northwestern Psychiatry Clinic at CHC came to fruition.
"Mental health is a part of all aspects of medicine, but most students have little experience dealing with it," says Gobeske. "I'm thrilled that I played a part in making psychiatry part of the overall Feinberg learning experience."