Dance Interest Group Offers Students Fun, Fitness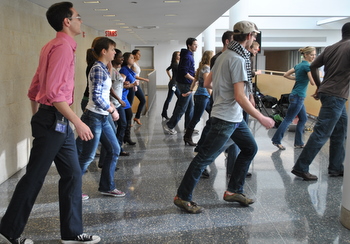 Once a week, first- and second-year Feinberg students gather in the lobby of the Lurie Medical Research Center to learn different dance styles.
Each week, the Dance Interest Group provides first- and second-year Northwestern University Feinberg School of Medicine medical students with an opportunity to put on their dancing shoes and let loose between classes. While the group seeks to cultivate interest and exposure to dance in its various forms, students get involved for a variety of reasons.
"Most students participate in our workshops to have fun, to learn a new skill, or to squeeze in a mid-day workout," says Brittne Halford, a second-year MD/MPH student and president of the group. "As students, we are always so focused on medicine; it's nice to take part in an extracurricular activity that allows us to escape from that world."
Fifteen students currently comprise the group, although many more participate in workshops throughout the year. Experienced students like Halford and group treasurer Jennifer Young, also a second-year MD/MPH student, serve as the instructors ― teaching their classmates various styles of dance, from belly dancing to salsa.
"Some workshop attendees come with prior experience; some have even danced with companies," says Halford, who has taken classes in belly dancing, flamenco, and hip-hop. "Yet others are first-timers who have spent most of their lives avoiding the dance floor."
Having danced only a few times as a kid in gym class, Andrew Haynes, a second-year MD/MA student, was unsure if he'd be able to follow choreography. He started attending the Dance Interest Group workshops to socialize and support his friends who led the class. He soon discovered a fulfillment that comes from mastering a step and becoming a strong leader.
"Once you get the basic steps down, the whole dance starts feeling smooth and natural," Haynes says. "Also, the class environment is laid-back and encouraging. There are people of all different levels, which I appreciate."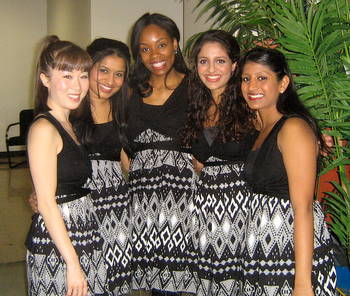 Dance Interest Group President Brittne Halford (center) and fellow dancers join together after performing in the 2010 In Vivo show.
To motivate inexperienced dancers like Haynes to try a class, the group hosted its first annual Taste of Dance event last September, which featured easy, 15-minute sessions of swing, bhangara, and modern dance choreography. This spring, Halford hopes to repeat the event with an enhanced cultural focus.
"Our next Taste of Dance event will feature the genres of bhangara, salsa, and Irish dance, as well as the cuisines associated with those cultures," says Halford, who also organized a group outing to Millennium Park's Celebration of Dance Festival ― an event featuring world-renowned dancers and companies like the New York City Ballet.
Members who are serious about their craft reveal their talents in annual medical school performances, including the sketch comedy show In Vivo and the multicultural show Fusion.
"Practicing for a performance allows students to share their talents and help others further their passions," Halford says. "We all love to dance and are always elated to perform live."