Clinical Psychology PhD Program Trains Students to Become Academic Psychologists
The Northwestern University Feinberg School of Medicine Doctoral Program in Clinical Psychology —located in the Department of Psychiatry and Behavioral Sciences (DPBS) — is one of only a few U.S. programs based in an academic medical center and the sole clinical psychology doctoral program housed in a psychiatry department. The five-year, PhD-granting program offers its students extensive research and clinical training in their quest to become academic psychologists.
The program provides students with translational research and practice opportunities that span molecular to social models of disease, and epidemiologic to clinical and neuroimaging methodologies. Students can also pursue specialized training in one of four clinical tracks: behavioral medicine, neuropsychology and neuroscience, policy, and psychopathology and treatment. Students are able to pursue an emphasis in clinical child and adolescent psychology, as well.
"Most clinical psychology doctoral programs produce graduates who are competent in providing clinical work in private practice settings, or are competitive for university-level teaching and research positions in similar departments," explains Jason J. Washburn, PhD, ABPP, director of education and clinical training in the DPBS, Division of Psychology. "In contrast, Feinberg's program aims for its graduates to engage in some combination of research and clinical work within medical centers or in other hospital or healthcare settings."
The Doctoral Program in Clinical Psychology currently includes 29 students, with eight being admitted each academic year. Incoming students have majored in psychology, neuroscience, or a related field during their undergraduate education, and come with research and clinical experience. Approximately one-third of incoming students enter the program with a master's degree.
The program includes three years of classroom-based education and part-time clinical externships or practica, one year of dissertation research, and one year of full-time clinical internships. Students also receive research mentoring — working with established investigators who focus on topics like the evaluation and dissemination of behavioral treatments, basic science and applied research on dementia syndromes, biomarkers for neuropsychiatric disorders, the translation of neuroscience to clinical applications, and health disparities and public health policy.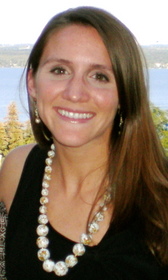 Third-year student Elena Bassett receives clinical training and conducts epidemiological research at Feinberg.

"Our students assist with the development and implementation of research grants, author manuscripts for peer-reviewed journals and academic books, and provide supervised treatment and assessment services within several Northwestern facilities, such as Stone Mental Health Center, Northwestern Memorial Hospital, the Cognitive Neurology and Alzheimer's Disease Center and the Department of Child and Adolescent Psychiatry at Children's Memorial Hospital," says Washburn.
Elena Bassett, a third-year student interested in trauma and psychosocial treatment of serious mental illness, earned her bachelor's degree at Harvard prior to entering the program. Bassett hopes to ultimately work in a setting where she can practice clinical work and contribute to psychology research.
"The Feinberg program truly aims to integrate the science and practice of clinical psychology. I receive superb clinical training with diverse client populations and conduct research in the Psycho-Legal Studies and Health Disparities lab," Bassett says.
Though rigorous, the Feinberg curriculum allows for flexibility. Last summer, Bassett participated in a 1500-mile bike ride supporting the National Alliance on Mental Illness. Along with her brother, she raised more than $10,500 for those affected by serious mental illness.
"I feel prepared to pursue a flexible and exciting career path. When I think about how far I have come in my development as a clinical psychologist and how much I have grown as a person, I feel proud to have been part of this excellent training program," Bassett says.