Clinical Psychology PhD Program Trains Students to Become Academic Psychologists
Northwestern University Feinberg School of Medicine's Doctoral Program in Clinical Psychology — located in the Department of Psychiatry and Behavioral Sciences (DPBS) — remains one of only a few U.S. programs based in an academic medical center and the sole clinical psychology doctoral program housed in a psychiatry department. The five-year, PhD-granting program offers its students extensive research and clinical training in their quest to become academic psychologists.
The program provides students with opportunities for translational research and practice that span molecular to social models of disease, and epidemiologic to clinical and neuroimaging methodologies. Students can also pursue specialized training in behavioral medicine, clinical child and adolescent psychology, clinical neuropsychology, and severe and persistent mental illness.
"Most clinical psychology doctoral programs are housed within liberal arts and sciences programs and produce graduates who are competent in providing clinical work in private practice settings, or are competitive for faculty teaching or research positions in similar departments," explains Jason J. Washburn, PhD, ABPP, director of education and clinical training in the DPBS, Division of Psychology. "In contrast, Feinberg's program aims for its graduates to engage in some combination of research and clinical work within medical centers or in other hospital or healthcare settings."
The Doctoral Program in Clinical Psychology currently includes 25 students, with five being admitted each academic year. Due to newly acquired research laboratory space, the program will expand next year to admit eight students per year. The majority of incoming students have majored in psychology or a related field during their undergraduate education, and many come with research or clinical experience, or both.
The curriculum includes three years of classroom-based education, three years of part-time clinical externships or practica, and one year of full-time clinical internship. Students also receive research mentoring — working with established investigators who focus on topics like biomarkers for neuropsychiatric disorders, dissemination of behavioral interventions, and health disparities and public health policy.
"Our students assist with the development and implementation of research grants, author manuscripts for peer-reviewed journals and academic books, and provide supervised treatment and assessment services within several Northwestern facilities, such as the Cognitive Neurology and Alzheimer's Disease Center and the Department of Child and Adolescent Psychiatry at Children's Memorial Hospital," says Washburn.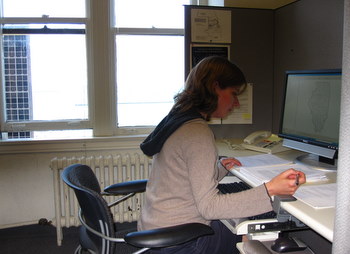 Second-year clinical psychology student Mara Gustafson works on her research in the lab.
Mara Gustafson, BA, MA '08, a second-year student focusing on mental health services and policy, earned a bachelor's degree in psychology and a master's degree in counseling psychology prior to entering the program. Working toward her PhD, Gustafson hopes to land a position in child welfare or community mental health — a field she became interested in after her experience at The Family Institute at Northwestern University.
"After spending two years at The Family Institute during my graduate education, I became engrossed in the policy factors that affect how people in the community gain access to mental health services; I decided to pursue a PhD to further my clinical training, and to get exposure to the kinds of applied research skills that could help answer that question," says Gustafson, adding that the specialized mental health services and policy track proved a perfect fit due to her interest in child welfare practices.
While her first clinical practicum begins this summer, Gustafson says she's already had a great deal of research training at Feinberg. One of her projects involves interviewing service providers and using this information in conjunction with geomapping techniques to examine service coverage for children in foster care across the state of Illinois. She also participates in a project examining the mental health outcome measures used for children in residential services, as well as a study investigating the impact of shifting child protective services to different state agencies.
"My research training has been great; my advisors are supportive and student-focused, and the culture of the lab is very collaborative," says Gustafson. "Additionally, the relationship between the program and local protective services agencies allowed me to work on projects in my first year that carry direct implications for current practices in child welfare."