Hands-on Approach to Breast Exams
Simulated breasts, genitals can help students learn proper techniques for physical exam
By Dawn Turner Trice
The Chicago Tribune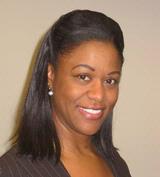 Carla Pugh, MD, PhD, associate professor of surgery at Feinberg, has developed simulators that help medical students learn the proper techniques for administering breast and pelvic exams.
As a little girl, Carla Pugh, MD, PhD, was so intrigued by her Baby Alive doll — advertised as being "so real" — that whenever Pugh fed the doll, she immediately would press on its abdomen, encouraging nature to take its course so she could unlock the mystery of digestion.
"I remember one of my friend's dolls got run over by a car and I thought, 'We have to do surgery on her,'" said Pugh, 44, an associate professor of surgery at Northwestern University Feinberg School of Medicine. "I was then horribly disappointed to find that it was just a plastic tube that went from her mouth to her bottom."
Pugh's fascination with human anatomy eventually led her to medical school, which eventually led to her frustration over watching doctors do breast, prostate, or pelvic exams and her sometimes not knowing whether she was touching the right places or using the correct pressure when it was her turn to perform an exam.
So, years later, she created simulators that give medical students a better idea of the correct palpation techniques.
Pugh's work has won her great acclaim, and in July she will begin a five-year study funded by a $2 million National Institutes of Health grant that will help doctors define the proper technique for palpation in breasts. The National Board of Medical Examiners, the licensing agency for doctors, hopes to use the findings to set standards because there is no test to determine if a medical student's sensory examinations are up to par.
"When I was in medical school, I watched a breast surgeon do a breast exam and had no confidence that I could do it the way he did," said Pugh, who also is an acute care surgeon at Northwestern Memorial Hospital. "If a doctor had his finger inside a man's rectum while performing a prostate exam, you could only see the back of his hand. You didn't know what he was touching on the patient."
So Pugh got a doctorate to learn more about computer technology and engineering, and she began building simulators of body parts — including the breasts, genitals, and the pelvic area — that allow medical students to feel for themselves.
Pugh's simulators have used fairly rudimentary items. Wooden balls double as testicles. A badminton shuttlecock can stand in for a cervix. Crushed beans or rice can mimic lumps in fake breasts.
Her simulators are attached via sensors to computers that display a diagram of the anatomy. When a student practices performing an internal exam, lights, bells, and whistles go off to show the instructor when the student has touched the correct area and applied the proper amount of pressure.
But Pugh's NIH grant will focus solely on breast tissue and mapping the range of proper palpation techniques. And because breasts come in many different sizes and shapes — despite the fact that medical school training dummies mostly have perky, size 36 B breasts — Pugh plans to create more than a hundred sizes of simulated breasts for doctors to palpate. The breasts will be made of silicone of various densities and sizes, and will include a range of simulated abnormalities.
"Then we'll have (the doctors) write down their diagnosis and while they're doing the exam, we'll capture where they're touching and how much pressure they're using," said Pugh. "We'll next start to create the correct answer."
She said researchers will have to separate the palpation technique from the actual full range of clinical abnormalities.
"At a minimum, the logic is that if you do the technique right, the chance of you palpating things correctly is higher," Pugh said. "The sensors help with us really being able to quantify and understand the range of techniques and palpations people use."
But this is just one hurdle. When it comes to young doctors dealing with the more sensitive areas of the anatomy and performing the more intimate exams, doctors sometimes are just as uncomfortable or embarrassed as patients. Pugh said medical students sometimes are reluctant to touch the simulators.
"Medical students go from dorm room learning to having to look serious in front of a naked person," Pugh said. "It's a rite of passage and you get one day to learn it. But there's no getting around the importance of exposure in getting beyond the embarrassment factor."
By the end of the study, Pugh said, her goal is to identify at a minimum the eight to 10 clinical presentations that all medical students should be able to diagnose before graduating from medical school. She said such guidelines have never before been available.
"We hope to decipher the limits of human capability," Pugh said. "We may find that most clinicians can't palpate a 1-centimeter lump in a fatty breast. We'll focus on what the average, competent doctor should know and let the standards begin there."
Copyright © 2010, Chicago Tribune