Match Day 2010 Reveals Residency Training Placements for Graduating Feinberg Medical Students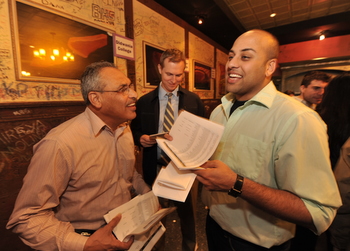 Neel Naik celebrateS his match in emergency medicine at New York University School of Medicine with his father Kirit.
The countdown is finally over for 157 soon-to-be Northwestern University Feinberg School of Medicine graduates who gathered, along with their family, friends, and faculty mentors, at Gino's East of Chicago on March 18 to discover where they will complete their residency training. While these fourth-year medical students will earn their Doctor of Medicine degree in May, Match Day marked the beginning of the next phase of their lives.
For many Class of 2010 students, like Neel Naik from Carol Stream, Illinois, who got his desired match in emergency medicine at New York University (NYU) School of Medicine, this event celebrated hopes and dreams that had finally, after a great deal of hard work, become a reality. Naik entered Feinberg through the Honors Program in Medical Education and has since been an outstanding contributor to the medical school community. He said that although he will miss having his family nearby, he cannot wait to get to New York City to enjoy everything the city has to offer.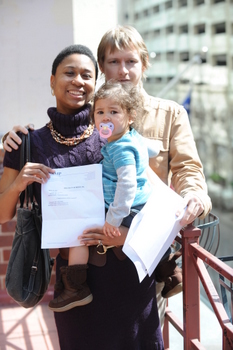 Tamika Smith, with husband Eric and daughter Bailey, matched In medicine at University of California, San Francisco.
"I'm going to New York," Naik repeatedly shouted, adding that he looks forward to not only exploring the city's unique restaurants, but also learning from the attending physicians he met during a brief rotation at NYU. Naik's father Kirit was also present at the event to support his son and find out where he and his wife will be vacationing over the next four years.
As Naik heads east, his classmate Tamika Smith from Miami, Florida, will move her family to the West Coast. Smith celebrated her residency match ― at University of California, San Francisco (UCSF) ― along with her husband Eric and daughter Bailey, who was born at Prentice Women's Hospital during Smith's medical school education. The elated couple, who met when Eric was Tamika's teaching assistant at Feinberg, says the UCSF's highly-ranked medicine residency program and its location (near the ocean and Golden Gate Park) couldn't be a better fit for their young family.
"We were leaving it up to faith," Eric said. "But, I wasn't worried; Tamika is so smart."
Amanda Redig has spent the past seven years stationed in Chicago as a student in Feinberg's Medical Scientist Training Program. Redig, who entered with the Class of 2007, is not only thrilled to be completing the program but is also eager to call Boston, Mass. home for the next four years. Redig was matched with her first-choice internal medicine residency at Brigham & Women's Hospital.
"The depth of scholarship at Brigham & Women's is astounding," said Redig, who will be on a short-track toward specializing in hematology-oncology. "I am delighted to a part of their program."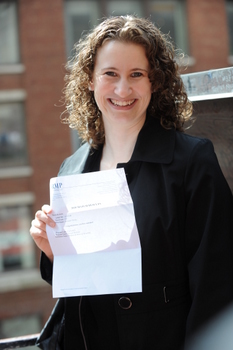 Amanda Redig holds up her match letter, which placed her in internal medicine at Brigham & Women's Hospital.
While Neeta Lal, from California, and Nikolas Kazmers, from Michigan, also matched to their first choice at Barnes-Jewish Hospital in St. Louis, their reactions were less joyous than their peers' and instead displayed utter relief. That's because Lal and Kazmers, who met and began dating while first-year students at Feinberg, feared they would be split up, even though they had linked their rank lists by participating in a couples match.
"We both had positive feedback from Barnes-Jewish, but you can never tell," said Lal, who was matched in the neurology residency program, while her boyfriend will enter the school's orthopedic surgery residency. "We knew we'd be thrilled to match anywhere together."
John X. Thomas, Jr., PhD, senior associate dean for medical education in the Augusta Webster, MD, Office of Medical Education (AWOME), is proud of the of the rapport Feinberg has with residency program coordinators across the country, and as a faculty member, was thrilled to see many of the students he has taught be selected into the nation's top residency programs.
"My colleagues and I spend a great deal of time mentoring these students throughout their undergraduate medical education," Thomas says. "For the medical school, it's exciting to see where our students are matched; and for these students, their placements are affirmation of a job well done here at Feinberg."
Also exciting was the fulfillment of all residency openings in Northwestern McGaw's recently developed family medicine residency program, a partnership between the medical school, Norwegian American Hospital, and Erie Family Health Center. Three Feinberg students — Beth Dunlap, Meredith Hirschman, and Sylvia Ukonga — and others from across the country matched into this residency.
"It's amazing that these students were so interested in this program and the exciting things happening here at Northwestern," said Sandy Sanguino, MD, MPH, associate dean for student programs and career development in AWOME.
Now that the entire class has been placed in a residency program, Thomas and Sanguino say the countdown begins to graduation, another important day in the journey for these students to become practicing doctors.