Feinberg Colleges and Societies Build Connections Among Medical Students, Mentors
Northwestern University Feinberg School of Medicine students are given four-year assignments to two social and academic communities – a college and a society – making these groups an integral part of the medical school experience.
Each class gets broken into four colleges. The colleges provide students with a familiar social and academic community that lasts throughout medical school. Under the leadership of the faculty mentors for which they are named, each college provides students with the opportunity to learn and adapt to the culture of medicine.
The societies — Mary Thompson, Howard Ricketts, T.K. Lawless and John A.D. Cooper — are an extension of the colleges and are named in honor of four historic graduates of the medical school. The societies mix together students from every class year. By linking colleges across the four classes and connecting students in a network of faculty and fellows with varying interests and experience levels, the societies seek to promote career development among students in all classes, encourage inter-class association and help the community at large.
Douglas Reifler, MD, associate professor of medicine, medical humanities and bioethics at Feinberg, is a member of the committee that organizes the colleges and societies and says the colleges and the curriculum that spawned them attract students to Northwestern.
"This aspect of the curriculum is a big reason Feinberg is known as a school that takes humanism in medicine seriously," Reifler says. "The colleges also make the medical school experience more supportive and personal; they are like professional families."
Feinberg's societies were introduced in 2008 with the goal of expanding on the success of the colleges, Reifler says.
"We hope the societies will offer the medical school better teaching, better advising and enhanced community engagement," Reifler says. "They will add to the social climate and eventually link students to alumni."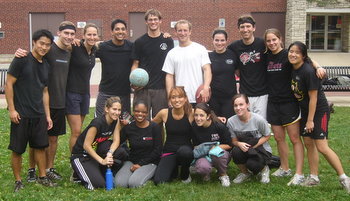 Members of the Ricketts Society compete in the first annual Society Olympics, an event which brings together student representatives from all four societies to compete in a series of athletic events in an effort to win the coveted Society Cup.
Bruce Henschen, a second year medical student in the Feinberg MD/MPH program, is in the Macken College and the Ricketts Society. Henschen has enjoyed his experience in the society, as it has enabled him to interact with students from other classes.
"It is really nice to have the opportunity to ask for advice from third and fourth year students and pass information on to first years," Henschen says.
The Ricketts Society meets several times each semester through occasions such as social or networking dinners and the Society Olympics, which brings together student representatives from all four societies to compete in a series of athletic events in an effort to win the Society Cup. Members of the society are also planning a day of service that will bring first through fourth year students to Chicago area nursing homes.
Henschen says the Macken College has also been valuable in shaping his Feinberg education. Through his college, Henschen participates in classes and small group discussions that focus on ethics, communications, physical exam skills, clinical reasoning, and vulnerable groups — an offsite experience that introduces students to individuals who are underserved, marginalized or at risk for health problems, so they can learn about their challenges in obtaining healthcare.
"Because we often share our ideas, I have found that I know a lot more about the members of my college than about the rest of my class," Henschen says. "It's great to be able to learn other people's points of view in a variety of settings."
As the student senator for the Macken College, Henschen works closely with the college's mentor, Michael Macken, MD, assistant professor of neurology in Feinberg's Davee Department of Neurology, to set up events and plan social activities. Henschen hopes his relationship with Macken continues.
"Dr. Macken will be a great resource for our college as we look for help in choosing a specialty," Henschen says. "He will be able to provide us with his personal perspective and will be able to connect us with people who can offer us advice about other fields of practice."