Alumni Association Keeps Graduates Connected to the Medical School

The Medical Alumni Association at Northwestern University Feinberg School of Medicine offers its more than 14,000 members an avenue for maintaining lifelong ties to the medical school. The Alumni Association connects with its members through Ward Rounds, numerous annual events and activities, and social media groups like LinkedIn and Facebook.
The Alumni Association also sponsors programs for current students — hosting breakfasts prior to exams, networking events with alumni, and much more — in hopes that after graduation, they too will be supportive and give back to the medical school.
"Alumni enjoy being part of the family," says Ginny Darakjian, assistant dean for Alumni Relations. "They want to know that the medical school is doing well, as it validates their degree."
F. Douglas Carr, MD '78, MMM, president of the Alumni Association, agrees that the relationship between the medical school and its alumni is mutually beneficial.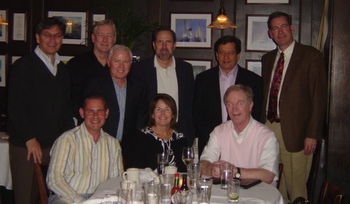 F. Douglas Carr, MD '78, MMM, president of the Alumni Association (back row center), celebrates his 30-year reunion with fellow alums in 2008.
"Feinberg must maintain accountability to the students it matriculates, and alumni represent the outcome of the educational process," says Carr.
Carr adds that support from alumni is also critical to the continued success of the medical school.
"I believe everyone needs to give back to the profession that defines us," Carr says. "Supporting Northwestern — encouraging medical students and helping them financially — is the key to 'paying it forward.'"
The Alumni Association offers ongoing communications and information about the medical school, as well as opportunities to reconnect and network with former classmates. Class representatives volunteer to serve as the communications link between the school and members of their class.
Melvin Gerbie, MD '60, professor emeritus, is class representative for this spring's 50- year reunion class. Gerbie also supports the medical school as a member of the Nathan Smith Davis Club and as an interviewer for MD admissions.
"Communications from Feinberg provide me with updates on what's happening at Northwestern," says Gerbie. "Publications like Ward Rounds also teach me about the latest medical innovations, and the events I attend give me the opportunity to speak with friends that I go years without seeing."