Hughes Legacy Lives On at Medical School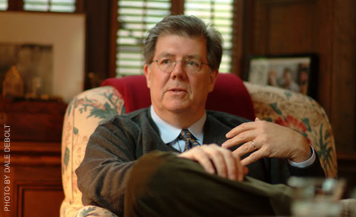 The tragic death of prolific filmmaker and life-long Chicagoan John Hughes on August 6 at age 59 was felt personally at the Northwestern University Feinberg School of Medicine. A long-time resident of the North Shore, Mr. Hughes love for Chicago not only translated into producing movies showcasing the city, but also supporting all it has to offer including at the Feinberg School.
The generosity of Mr. Hughes and his wife Nancy made possible state-of-the-art educational space in the Robert H. Lurie Medical Research Center of Northwestern University which opened in 2005. The building's ground floor features the 255-seat Hughes Auditorium, an aesthetically-pleasing lecture hall designed to enhance the learning and teaching experiences of students and faculty alike. Among the largest auditoria on the medical school campus, the Hughes Auditorium can accommodate an entire medical school class and serves as a home base for first-year students.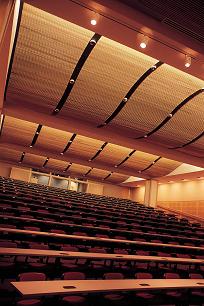 The spacious 255-seat Hughes Auditorium, which can accommodate an entire medical school class in one sitting.
"His legacy goes far beyond his writing and movies that have delighted a generation," reflects Dr. James Schroeder, family friend and physician. "Without fanfare he also gave millions to medical research and education, to relieve suffering and conquer disease. He enjoyed learning about the work of physician researchers, approaching it with the fresh open curiosity of one who, though not a scientist, had great intuitive insight into people and their passions. He was delighted to be part of their research efforts."
In 2006, Northwestern established the John and Nancy Hughes Distinguished Professorship in Rheumatology from a generous gift of endowment provided by John and Nancy Hughes. The Hughes Distinguished Professorship supports and advances research in rheumatology. Carrying great prestige within the academy, an endowed professorship embodies the highest honor a university can bestow on a prominent faculty member and provides a strong foundation to move a Department and/or Division to the next level of excellence in patient care, research, and teaching. Dr. John Varga, Division of Rheumatology, is the inaugural holder of this esteemed academic position.
"The endowed professorship created by John Hughes and his family has made it possible to establish at Northwestern a rheumatic disease center of excellence focusing on scleroderma, " explains Dr. Varga. "The research supported by the Hughes endowment is developing novel therapies for incurable rheumatic conditions."
Best known as the writer or director of such 1980's comedies as "National Lampoon's Vacation," "The Breakfast Club," "Ferris Bueller's Day Off" and the "Home Alone" series produced in the early 90's, Mr. Hughes left the entertainment world behind at an early age and chose instead to spend his time in the Chicagoland area. It was important for Mr. Hughes to give something back to Chicago and his philanthropy allowed him to do that. He understood the importance of future physicians receiving the best education possible and that the research done on the medical school campus will help advance patient care.
"A great legacy for a remarkable man," says Dr. Schroeder. "We at Northwestern are as especially grateful as we are deeply saddened, but through his support he will have helped many now and in the future."