Too Many Ways to Say "It Hurts"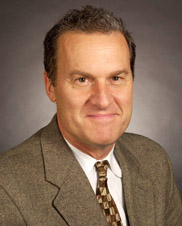 Dr. Cella
There are at least 100 ways to say, "It hurts!" And that is the problem.
David Cella is on mission — backed by nearly $10 million in National Institutes of Health funds — to revolutionize the language of pain, as well as fatigue, depression and anxiety. These are some of the important symptoms researchers measure when they try to figure out if a medical treatment improves the quality of life for a patient with a chronic disease.
Are they in too much pain to unload groceries from the car? Are they too tired or depressed to go out to lunch with a friend? The answers are vital for researchers to know if new treatments are useful or useless.
But the glitch is every group of researchers asks patients different questions to measure their symptoms. Thus, one group's measurement of severe pain or fatigue or depression may be different than another's. Because researchers aren't speaking a common language, doctors and other health care providers can't compare the results across studies to decide which is the best approach. Instead, study results remain separate puzzle pieces that never fit together into a whole picture.
"Can you imagine if a doctor wanted to check your hemoglobin and there weren't any numbers to measure whether it was normal?" asked Cella , professor and chair of the new department of medical social sciences at Northwestern University Feinberg School of Medicine and a member of the Robert H. Lurie Comprehensive Cancer Center of Northwestern University. "When you say a patient's hemoglobin is 11, everybody knows what it means, but nobody knows what a pain of 36 means or a fatigue of 32 because we don't use common measures."
That's about to change. Cella is leading a far-reaching new national project that establishes a common scientific vocabulary. In August, he and colleagues from six other institutions and the NIH will release a set of free publicly available computerized tests for researchers to measure pain, fatigue, depression, anxiety and physical and social functioning. Now there will be a pain measurement of 75, for example, that will mean the same thing to every doctor and scientist.
The new project is called Patient-Reported Outcome Measurement Information System (PROMIS). More than 1,000 researchers have already registered to try the new tools.