Dr. Mirkin Receives Lemelson-MIT Prize for Invention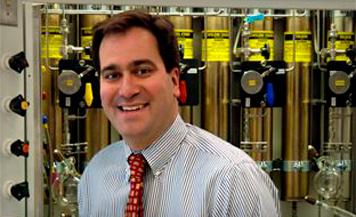 Dr. Chad Mirkin
Northwestern University researcher and Feinberg School professor of medicine Chad Mirkin, PhD, one of the world's leaders in nanotechnology research and its application, has been awarded the prestigious 2009 $500,000 Lemelson-MIT Prize.
For Dr. Mirkin, good things come in small packages — specifically one billionth of a meter in size. Yet the impact of Dr. Mirkin's work is anything but small. A prolific inventor and entrepreneur, his innovations have the potential to transform the future of medical diagnostics and patient point-of-care and to ignite change across many industries, from semiconductors to health care.
The Lemelson-MIT Program recognizes outstanding inventors. Dr. Mirkin, George B. Rathmann Professor of Chemistry in the Weinberg College of Arts and Sciences and director of the International Institute for Nanotechnology at Northwestern, is being honored for his revolutionary discoveries and sizeable contributions to science and invention.
A leader in the burgeoning field of nanotechnology, Dr. Mirkin is the author of 380 manuscripts and more than 350 patents and applications. He currently is listed as the third most-cited chemist over the last decade and the most-cited nanomedicine researcher in the world. Dr. Mirkin also is professor of medicine, chemical and biological engineering, biomedical engineering and materials science and engineering.
Dr. Mirkin, who recently was named to the President's Council of Advisors on Science and Technology, is best known for the invention, development, and commercialization of two revolutionary technologies: the nanoparticle-based medical diagnostic assays underlying the FDA-approved Verigene IDTM system, and Dip-Pen Nanolithography, an ultra-high-resolution molecule-based printing technique.