Stimulus Funds Science Experience for Young Women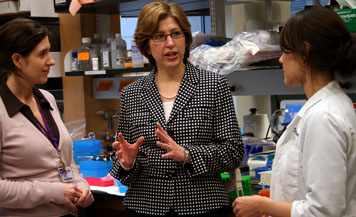 Dr. Teresa Woodruff
What has President Obama's stimulus package got to do with research efforts to preserve the reproductive future of cancer survivors? Everything for two recent Chicago high school graduates and two high school science teachers who this summer and next will engage in research in the oncofertility laboratory of Dr. Teresa Woodruff.
"The stimulus dollars making this possible are among the first to arrive at Northwestern University from the National Cancer Institute," said Kemi Jona, director of the Office of Science, Technology, Engineering, and Mathematics Partnerships in the School of Education.
The stimulus money from the American Recovery and Reinvestment Act will allow Northwestern to continue educating, mentoring and directing high school girls through the pipeline toward future careers in science.
For two years, Northwestern's School of Education and Social Policy and Feinberg School of Medicine have given 29 girls from the Young Women's Leadership Charter School on Chicago's South Side the opportunity to take part in and learn about cutting-edge science in the field of oncofertility.
Now — with support from money from the federal stimulus package — two of those students will be paid to work this summer and next in Dr. Woodruff's cutting-edge oncofertility laboratory. Woodruff, director of the Feinberg School's Institute of Women's Health Research and chief of Feinberg's Division of Fertility Preservation, coined the term "oncofertility" some years ago.
Oncofertility refers to a pioneering new discipline in which cancer treatment and fertility health intersect. Woodruff, who also is the Thomas J. Watkins Professor of Obstetrics and Gynecology, is the principal investigator of a $21 million National Institutes of Health grant targeting fertility threats posed by cancer treatment.