Dr. Thaxton Honored for Nanotechnology Research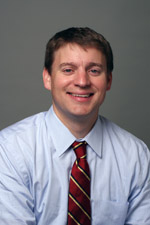 Dr. C. Shad Thaxton
C. Shad Thaxton, MD, PhD, assistant professor of urology, has been named 2009 researcher of the year by Bioscience Technology. Dr. Thaxton's award is a result of his research using gold nanoparticles to develop new therapeutics for atherosclerosis, a disease caused by an imbalance of circulating cholesterol.
Cholesterol is carried throughout the bloodstream by two naturally occurring nanoparticles—LDL, often called bad cholesterol and HDL, known as good cholesterol. LDL's negative reputation comes from its nasty habit of depositing the cholesterol it carries in the walls of arteries leading to atherosclerosis and heart disease. HDL, however, picks up the cholesterol deposited in the arteries by LDL and moves it to the liver for excretion—kind of a cholesterol vacuum cleaner.
"My thought was, 'Why don't we just mimic the HDL that nature has given us, attempt to understand it from a nanomaterials perspective, and then try to make it even better,'" says Dr. Thaxton. So that's what he and his team did. They built HDL artificial nanostructures to look strikingly similar to those in the body.
After sharing his success with his former PhD advisor Chad Mirkin, PhD, George B. Rathmann Professor of Chemistry, Dr. Thaxton and graduate students from Dr. Mirkin's lab heeded his advice and set about quantifying how well the nanostructure took up cholesterol. "Lo and behold, the structures bind cholesterol very very strongly," he says.
Dr. Mirkin expressed pride in his former student, now colleague. "He was the most promising student we've had come through Northwestern in a long time," says director of the Northwestern's Nanoscale Science and Engineering Center and International Institute for Nanotechnology, and recent appointee to President Obama's Council of Advisors on Science and Technology. Faculty on both the Evanston and Chicago campuses "wholeheartedly endorsed and enthusiastically pursued" adding Dr. Thaxton to the faculty, adds Dr. Mirkin.
According to Dr. Thaxton, the hard work starts now with building multiple structures and seeing if they are equally efficient at rounding up cholesterol. Eventually the research will have to be tested on animals and people, with the long range goal of developing an effective therapeutic, says Dr. Thaxton.
Excited by the potential for helping people, Dr. Thaxton is equally intrigued by the possibility that he can tailor the structures to perform even better than the real thing. "The question is, 'How can we improve upon what nature's done? How can we make a better HDL?" he asks.
Bacon and eggs anyone?