Heartburn Meds Ineffective for Some Asthma Patients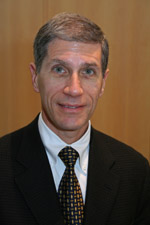 Dr. Lewis Smith
For nearly 20 years, doctors believed severe asthma symptoms such as coughing, sneezing, and breathlessness were triggered, in part, by acid reflux. Asthma sufferers were often prescribed heartburn medication in an effort to help their asthma symptoms.
A new national study, led in Illinois by a researcher from Northwestern University's Feinberg School of Medicine, has found that the longstanding practice of prescribing heartburn medication is ineffective and unnecessarily expensive for asthma patients who don't exhibit symptoms associated with acid reflux such as heartburn or stomach pain.
"Now we know that we should not be using these medications for the treatment of asthma if the patient does not have reflux symptoms," said Lewis Smith, MD, a professor of medicine at the Feinberg School and principal investigator of the Illinois Consortium for the American Lung Association's Asthma Clinical Research Centers. Dr. Smith also is associate vice president for research at Northwestern University.
Asthma sufferers spend as much as $10 million on prescription heartburn medication because they believe it will help control attacks of wheezing, coughing, and breathlessness. About 23 million people in the U.S. have asthma. An estimated 12 million people with asthma have an "attack" each year, and 2 million visit the emergency room.
The results of this study, which will be published April 9 in the New England Journal of Medicine, are considered to be the most comprehensive evaluation to date of the efficacy of prescription heartburn medication to control respiratory flare-ups in asthmatics whose symptoms have not been well controlled by other therapies.
Dr. Smith said the medication has been prescribed to asthma sufferers because "when you have a patient who is not doing well, you are always looking for ways that make sense to try to make them better. We should be trying these medications, but if the patient doesn't get any better, we should stop the medications."
~Marla Paul