Stephen Miller Named Award Winner at Research Day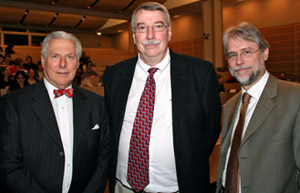 (From left) Drs. Lewis Landsberg, Stephen Miller, and Rex Chisholm
At the Feinberg School of Medicine's Lewis Landsberg Research Day, keynote speaker Stephen D. Miller, PhD, Judy Gugenheim Research Professor of Microbiology-Immunology, was named winner of the Tripartite Legacy Faculty Award in Translational Science and Education. Created in 2008, the annual award recognizes a faculty member who best exemplifies three characteristics: exceptional research with dynamic applications in translational science, exemplary teaching and mentoring, and inspiring leadership in the areas of research and teaching. Jeffrey Glassroth, MD, vice dean and chief academic officer, described the genesis of the award, which is supported by the Dean's Office and Morningstar Foundation.
Rex Chisholm, PhD, dean for research, introduced Dr. Miller, who also directs the Interdepartmental Immunobiology Center at Northwestern. Said Dr. Chisholm, "[He] is a truly distinguished researcher, who has had an enormous impact on the field of chronic autoimmune diseases," citing Dr. Miller's outstanding federal and foundation grant support and more than 280 publications. Dr. Miller has also been a celebrated teacher of graduate students and postdoctoral fellows since coming to Northwestern in 1981.
The translational aspects of his work are coming to fruition today. Over 30 years of research, Dr. Miller refined and tested basic science findings in animal studies that set the stage for a clinical trial to treat multiple sclerosis (MS) that he and his colleagues recently launched in Germany.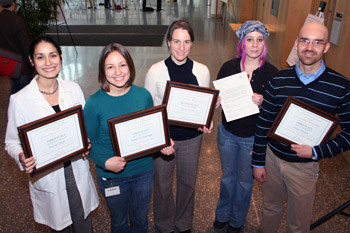 Poster session award winners included (from left) postdoctoral fellow Dr. Paloma Toledo, and graduate students Angela Anderegg, Emily Crow, Ann Carias, and Cory Simpson.
"In every sense, I think Steve exemplifies the components honored by the Tripartite Legacy Faculty Award in Translational Science and Education," said Dr. Chisholm, who is also Adam and Richard T. Lind Professor of Medical Genetics. He presented the award medallion to Dr. Miller.
In his talk, Dr. Miller described "epitope spreading," in which a specific immune response to one of the body's own proteins spreads to other components of the host immune system. His original basic science observations in 1979 led to the establishment of the concept about 18 years ago. His work since then has focused on targeting epitope spreading by using peptide-coated antigen presenting cells to induce tolerance as a potential treatment for autoimmune-mediated diseases such as diabetes and MS. Other possible applications include treatment for allergenic asthma and reducing or eliminating rejection of transplanted organs. He and his research team have shown they can use the strategy to prevent mice from rejecting transplanted insulin-producing islet cells in a model of diabetes.
After a question and answer session, everyone was invited to view the more than 150 research posters that were set up in the west and east sides of the atrium of the Robert H. Lurie Medical Research Center. At the day's end, Dr. Chisholm presented the basic and clinical research awards. Presenting the women's health research award were Sarah Sutton, MD, assistant professor of medicine and co-chair of the Northwestern Medical Women Faculty Organization, and Laurie Zoloth, PhD, professor of medical humanities and bioethics and director of Center for Bioethics, Science and Society.
In basic science research, the winners were Integrated Graduate Program (IGP) in the Life Sciences students Cory L. Simpson (third place) and Emily T. Crow (second place), and Northwestern Interdepartmental Neuroscience Program student Angela M. Anderegg (first place). The clinical research awards went to Institute for Healthcare Studies postdoctoral fellow Paloma Toledo, MD '03 (third place); Stephen D. Persell, MD, MPH, assistant professor of medicine (second place); and visiting postdoctoral fellow in endocrinology Hoon Lee, PhD (first place). The award for women's health research went to IGP student Ann Carias.