NUCATS Pilot Grant Awardees Think Outside the Box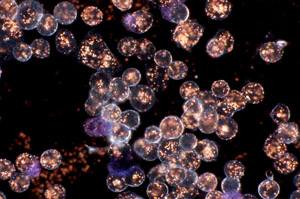 Above is an image of gold nanoparticle probes binding to a human breast cancer cell line from the research of Drs. Odom and Zhang.
The Northwestern University Clinical Translational Sciences (NUCATS) Institute announces the recipients of the first Center for Translational Innovation pilot grant competition. These awardees represent the kind of innovative thinking, multidisciplinary teams, and novel approaches to serious unmet medical problems that NUCATS supports.
Tailor-Made Nanoparticles Could Revolutionize Cancer Treatment
Could the use of specifically designed nanoparticles offer more efficient treatment in destroying the cancer cells while sparing the nearby normal cells? Teri Odom, PhD, associate professor of chemistry at the Weinberg College of Arts and Ming Zhang, PhD, associate professor of molecular pharmacology and biological chemistry at the Feinberg School are collaborating on a project to answer that question. Their objective is to design and optimize nanoparticles with molecular bio-markers that can be used in the thermal removal of primary breast cancer cells as well as the metastic tumor cells at distant sites.
Synthetic Glue That Mimics Nature's Adhesive May Offer Alternative Therapy for Fetal Membrane Rupture
This pilot project is a critical expansion of work already started in the lab of Philip Messersmith, PhD at the McCormick School of Engineering, where he has examined the remarkable natural adhesive secreted by mussels and other marine organisms. Dr. Messersmith, professor of biomedical engineering in the McCormick School of Engineering and Applied Science, will be collaborating with Andreas Zisch, head of research in the Department of Obstetrics at the University Hospital in Zurich, Switzerland, one of the foremost experts on fetal membrane rupture. They will determine if a synthetic polymer that mimics the adhesive properties of the mussel could be used to seal fetal membrane ruptures that result in preterm birth and associated morbidity and mortality.
Linking Brain Signals to Mechanical Device May Restore Hand Function in Stroke Survivors
Regaining sufficient control of hand movements after stroke is a challenge for many patients left with only minimal control of the muscles in the affected hands, wrists, and arms. Jun Yao, PhD, research assistant professor of physical therapy and human movement sciences at the Feinberg School of Medicine, is proposing a futuristic solution to this obstacle. She seeks to build on previous work in the field mapping brain signals to infer patient commands, which are then relayed to an electronic device that stimulates the muscles and thus allows the patient to accurately open and close the hand. Dr. Yao has developed a new algorithm and new techniques to increase speed and accuracy over earlier attempts in the field.
Oxygen May Be Key to Restoring Vision to Pre-Retinal Detachment Level
Alice Lyon, MD, assistant professor of ophthalmology at the Feinberg School of Medicine and Robert Linsenmeier, PhD, professor of biomedical engineering at the McCormick School of Engineering and Applied Science, are working together with collaborators at Feinberg to study the beneficial effects of using supplemental oxygen to treat retinal detachment until surgery for reattachment can take place. A truly translational project, NUCATS is funding the first clinical study to see if patients recover more visual improvement post-surgery when following this protocol.