Medical Student Joins Surgical Relief Team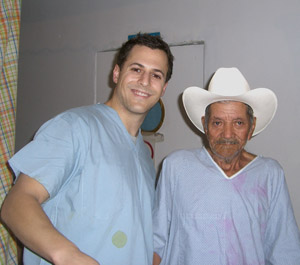 Medical student Michael Granieri (left) and patient.
Michael Granieri, a second-year medical student from Chicago, got a head start on his surgical rotation recently when he accompanied Christopher Gonzalez, MD, MBA, associate professor of urology, and medical residents Neema Navai, and Oni Okotie to the tiny village of San Blas, Mexico. There the team attended to 50 patients over two days and performed six urological surgeries, four of them major operations. Functioning as the scrub tech for the group, Granieri saw diseases and abnormalities that he might never have glimpsed otherwise.
While Dr. Gonzalez has been making these surgical relief trips with residents in tow since 2001, Granieri is the first student to accompany him. "He was a big help to us down there," said Dr. Gonzalez. "It was an outstanding experience for him to see the intensity of being faced with a problem, deciding what to do, and then following up."
The two got to know each other last summer when Granieri participated in a research program for students just completing their first year of schooling. The medical student expressed interest in Dr. Gonzalez's cause and asked if he could participate if he found funding. Dr. Gonzalez agreed but every financial assistance opportunity explored by Granieri led nowhere. Luckily, a patient of Dr. Gonzalez's came to the rescue and picked up the tab for the group of four.
Granieri participated in a trip to Nicaragua after his first year of medical school through NU-AID, a student volunteer organization at the Feinberg School that provides primary medical care to the needy in Latin America and Jamaica. While there he interviewed patients, worked in the pharmacy, and gave public health talks to the locals. This trip inspired him to seek a global health experience in a surgical field, he said. "Repairing major deformities and dramatically improving someone's quality of life in a matter of hours was very rewarding," he added. "I loved working in a team setting to help the less fortunate. The patients and their families were so grateful, which made the experience even more special."
The trip to Mexico was arranged through the non-profit group LIGA International, which flies American medical specialists to Mexico on the first weekend of each month excluding the summer when the temperatures exceed 100 degrees. The local radio station announces the specialty of that month's physicians. With x-rays and medical records in hand, the patients—all uninsured—often wait in line for hours to be seen. Many travel 8 to 10 hours to see the doctors.
Dr. Gonzalez's interest in helping the less fortunate was whetted during his 10 years in the U.S. National Guard. In addition to Mexico, his surgical relief trips have included visits to Honduras, China, and Ecuador.