New Institute Targets Brain Tumor Survival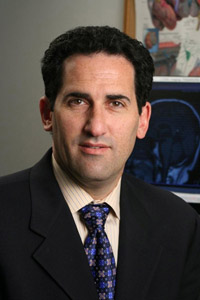 Dr. Jeffrey Raizer
Primary brain tumors affect nearly 20,000 Americans each year, and every year more than half die as a result. For young adults ages 30 to 39, brain tumors are the third-leading cause of death among men and the fifth-leading among women. Despite significant advances in cancer treatment, on average, adults with glioblastoma, the most common malignant brain tumor, survive roughly 12 to 14 months post diagnosis.
"Currently less than one-third of adults survive five years after being diagnosed with a primary brain tumor," said Jeffrey Raizer, MD, codirector of the Northwestern Brain Tumor Institute, associate professor of neurology at the Feinberg School of Medicine and director of medical neuro-oncology at Northwestern Memorial Hospital. "Our mission is to improve patient survival through clinical and scientific research."
The Northwestern Brain Tumor Institute is a collaboration of the Robert H. Lurie Comprehensive Cancer Center of Northwestern University, Northwestern University's Feinberg School of Medicine, and Northwestern Memorial Hospital. It was established to merge medical research with state-of-the-art comprehensive care to better manage and treat patients with brain tumors. In addition, the institute emphasizes therapeutic approaches that preserve quality of life while taking every measure possible to extend life.
"Brain tumor treatment is very complicated," said James Chandler, MD, the institute's other codirector as well as associate professor of neurological surgery at the Feinberg School and Northwestern Memorial's surgical director of neuro-oncology. "The very therapy that may eradicate malignancies may also diminish quality of life for some patients."
The institute's three-pronged approach rests upon surgery, medical treatment, and clinical research. With surgery for example, advanced neuro-imaging techniques, neuro-navigation, and brain mapping makes brain tumor surgery more precise than in years past. And, through minimally invasive endoscopic skull-based procedures, brain tumors can be accessed through the patient's nose, eliminating the need to split the face and skull.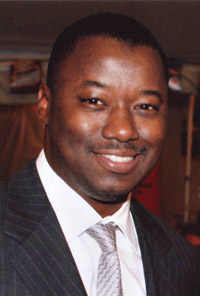 Dr. James Chandler
With medical treatment, the neuro-oncology team provides an extensive list of cutting-edge chemotherapies offered through clinical trials. In addition, medical treatment is uniquely integrated with psychosocial therapy options like monthly support groups and a brain tumor resource center. The rapid growth of Northwestern's clinical neuro-oncology programs has lead to the natural evolution of growth within the sciences.
"Our academic medical center does not rely solely on clinical trials developed by outside pharmaceutical companies," said Markus Bredel, MD, assistant professor of neurological surgery at the Feinberg School and director of the Brain Tumor Institute's research program. "We also develop a number of our clinical trials in-house based on our own findings, our collective knowledge, and medical expertise, which truly makes us unique."
One example of this is a new initiative of the Brain Tumor Institute to collect and study all tumor specimens in order to better understand tumor biology. Known as molecular profiling, studying the biological progression of tumors will help researchers identify certain consistencies within tumors. This allows researchers to target therapies and tailor treatment regimens that are extended to patients.
Dr. Chandler noted, "Our multidisciplinary approach encompasses research, neuro-oncology, neurosurgery, and clinical programming in such a way that we hope to set forth new global standards for effectively managing the disease as well as a model of care with potential to improve outcomes and hopefully contribute to finding a cure."