Ann Harris, PhD, Focuses on Cystic Fibrosis Research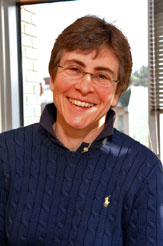 Dr. Ann Harris
Ann Harris, PhD, is on a mission. As the director of one of the youngest programs at Children's Memorial Research Center, she understands good science, dedication, and the value of a lively exchange of ideas. Harris is committed to infusing her laboratory, the Human Molecular Genetics Program, and the research center with these qualities.
Dr. Harris began her scientific career by studying insects and their color preferences in her family's garden in the U.K. After studying zoology at Oxford University, she continued in her PhD studies at the University of London. It was then that she encountered the genetic disease that would dominate her work, cystic fibrosis (CF). Paul Polani, an eminent cytogeneticist at Guy's Hospital Medical School in London, offered her a position to study its genetics, about which little was known.
Unfortunately, the funding that was supposed to support her didn't materialize. Dr. Harris managed to secure a training fellowship from Action Research for the Crippled Child. Her postdoctoral fellowship completed, she received a New Blood Lectureship position, one of only 100 to be offered that year in the U.K. university system. It was at this point that Harris took on her next sharp learning curve: becoming a principal investigator at Guy's Hospital Medical School at the age of 28.
"In 1991, I gave up tenure in London and moved to Oxford. The Institute of Molecular Medicine was a fantastic place to work—there was a huge interest in human genetic disease," Dr. Harris says. She continued there for more than 12 years.
In 2003, Dr. Harris decided that something different was in order. The program director position description at Children's Memorial Research Center was written as if it were tailor-made for her. "When I talked to the faculty, there was a sense of a wish to work together to grow and do new things. It was clearly a scientific environment that both Bento [Soares], professor of pediatrics, and I are trying to foster."
Dr. Harris knows what her lab's ideal makeup should be: international in scope, outward looking, and open to new ways of thinking. She brought lab members who chose to relocate from Oxford to the research center and also recruits worldwide. She has strong opinions about connections and interactions, placing a high value on collaborations with other labs at the research center, clinical colleagues at Children's Memorial Hospital, Northwestern University investigators, and many others.
What is the future of CF research? Dr. Harris thinks it involves forming a community of sorts, to pool resources and brain power. "Northwestern has outstanding science in many areas. We now have very accurate records of everybody on the campuses who is interested in genetics and how they identify themselves in the bigger genetics community, and a dialog is ongoing between the campuses." As always, her enthusiasm for forming partnerships to help solve the riddle of CF genetics remains high.
Dr. Harris, director of the Human Molecular Genetics Program, is professor of pediatrics at the Feinberg School and the Valerie and George D. Kennedy Research Professor in Human and Molecular Genetics at Children's Memorial Research Center.