Dr. Daviglus Leads National Hispanic/Latino Study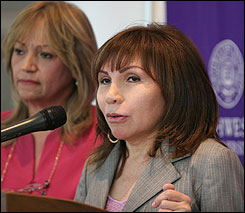 Dr. Martha Daviglus
The Feinberg School of Medicine is one of four national sites participating in the largest study of health and disease in the Hispanic/Latino population living in the United States. Martha Daviglus, MD, MPH, PhD, professor of preventive medicine, is the principal investigator for the study. She leads a multi-disciplinary team of health experts from Northwestern and the University of Illinois at Chicago. The study is funded by a $11.1 million, 6 ½ year grant from the National Institutes of Health (NIH).
"We know that Latinos, who are becoming the largest minority group in the country, have a higher prevalence of obesity, diabetes, hypertension, and other risk factors," Dr. Daviglus notes. This study will explore the role of lifestyle factors such as diet, acculturation and socioeconomic status, along with limited access to health care. Because of the accelerated growth of the Latino population nationwide and in Chicago, there is a great need to assess health needs for planning and implementation of linguistically and culturally appropriate services.
The study will determine the role of cultural adaptation and disparities in the prevalence and development of disease. Like the landmark Framingham Heart Study, which helped increase understanding about the origins of heart disease and its risk factors, and the Jackson Heart Study, which is exploring heart disease in African Americans, the Hispanic Community Health Study of Latinos promises to make an important contribution to the nation's public health.
Dr. Daviglus and her team are studying a community-based sample of 4,000 persons of Hispanic origin, including both men and women, who are between the ages of 18 and 74 at baseline. "Within each group of 4,000, we hope to recruit 2,500 persons ages 45 to 74 and 1,500 between the ages of 18 and 44," she says. "We want the population to be 50 percent women and include persons of varying socioeconomic status."
Participants in the study undergo a series of physical examinations and interviews to help identify the prevalence of risk factors for a wide variety of diseases, disorders, and conditions. They will be followed initially for up to four years. The clinical examination is being conducted at a community-based health center that primarily serves Latino patients.
Having the third largest Hispanic population in the country, Chicago is a good center for this study. "This is an ideal site because our Hispanic population is large, approximately 900,000, and reflects a good representation of Hispanic groups, including those of Mexican, Puerto Rican, and Central/South American origin," Dr. Daviglus says. The other three field sites of this national study are the Albert Einstein College of Medicine of Yeshiva University; the University of Miami; and San Diego State University.
"Our recruitment of participants is in the early stages," Dr. Daviglus notes. "Still, it is interesting to note that we can already see that, compared to the national average, there are higher percentages of Hispanics with diabetes, cardiovascular disease, and other health problems. Many of these people also are underserved in our health system and have no health insurance."
According to the NIH, the Hispanic population in the U.S. is expected to triple in growth by 2050. As this population increases, and as it continues to experience varying rates of disease, it is important to understand the risk factors and health behaviors that contribute to these conditions. Dr. Daviglus says that when the data are gathered she hopes to be able to fill in some vital gaps in knowledge of disease risk factors in the various sectors of the Hispanic population. "Through the Hispanic Community Health Study, the Feinberg School can make an impact in the Hispanic community and beyond," Dr. Daviglus says. "We hope to make an impact on the health of the Hispanic community and possibly translate the information to other underserved populations in the U.S."