Entering Class Profile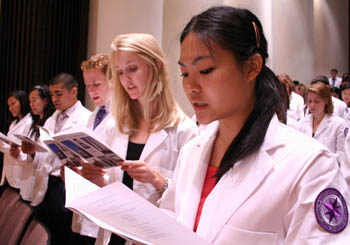 Approximately one of every five applicants to U.S. medical schools for the 2008–09 academic year applied to the Feinberg School. The 169 members of the Class of 2012 include 95 men and 74 women. Their undergraduate majors span the spectrum from biology to biomedical engineering, economics, psychology, and history. Our new students possess a wide range of life experiences, proven leadership and team skills, and collectively, speak 29 different languages.
The undergraduate grade point average for the Class of 2012 is 3.79 overall and 3.76 in the sciences. Average scores on the Medical College Admission Test for the class are 12.2 in the biological sciences, 12 in the physical sciences, and 10.9 in verbal skills. The medical school had 7,412 applicants for the 120 positions available through the regular admissions process.
Among our new students, represented self-described racial and ethnic groups are 2 (1 percent) African and African American; 72 (42 percent) Asian; 10 (6 percent) Hispanic; 1 (.6 percent) Native American or Native Hawaiian/Pacific Islander; and 72 (42 percent) White. Twelve new students chose not to self-describe.
There are 24 (14 percent) non-traditional students—those who have taken off two or more years between their undergraduate studies and medical school—in the class. They and the traditional students range in age from 20 to 31 years old, claim 54 institutions as their undergraduate alma maters, and hail from 30 states and 10 foreign countries.
Fourteen students entered the Feinberg School of Medicine's Medical Scientist Training Program and will receive both MD and PhD degrees when they complete their studies. Forty-five students entered through the Honors Program in Medical Education and five through the Northwestern Undergraduate Premedical Scholars Program.
Nine members of the 2012 class have earned degrees, including three PhDs in bioengineering and six masters degrees in science.
Entering class members possess extensive research experience: 91 percent engaged in research on the undergraduate or graduate level. Forty-six percent are authors on a research publication or presentation. Among the Class of 2012 there are Howard Hughes Medical Institute, Biomedical Engineering Society, National Merit Scholar, and National Institutes of Health research awardees, among others. Our students are also Freeman-ASIA, Phi Beta Kappa, and Golden Key International honorees.
Their volunteer experience includes service with Doctors Without Borders, Habitat for Humanity, the Baltimore Rescue Mission, and Teach for America. Additionally, our students have volunteered as emergency medical technicians in hospices, local soup kitchens, at boys and girls clubs, and more.
Members of the 2012 class have participated in Relay for Life, as rowing/crew coaches, and as varsity football, ice hockey, fencing, basketball, and rugby players. The class includes a National Collegiate Champion Triathlon competitor, a U.S. archery champion, and a black belt in tae kwon do.
Class members have won awards as humanitarians, hospice volunteers, writers, and print-makers. The class includes ballet, modern, and marathon dancers, as well as an orchestral bassoonist, several pianists and violinists, and a Chinese pipa player, among a number of other musicians and dancers.