Faculty, Staff Donations Make Back to School Better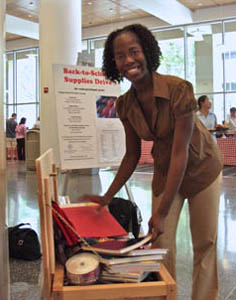 Tiffany Barnes from the Department of Family Medicine adds her donation to the overflowing collection box. In total, six boxes of school supplies as well as monetary contributions were transported to Heartland Alliance for distribution.
Piles of paper, a slew of scissors, heaps of highlighters, and other back-to-school supplies were generously donated by the Feinberg School faculty and staff to help needy Chicago children get ready for the upcoming school year.
The school supplies drive, sponsored by the Staff Relations Committee (SRC), was a terrific kick-off for the new school year, and the response was impressive—six large boxes of supplies as well as monetary contributions. Donations are being distributed by Heartland Alliance for Human Needs & Human Rights, a service-based organization focused on helping the most poor and vulnerable members of society. Founded as Travelers Aid in 1888, Heartland Alliance provides housing, health care, human services, and human rights protection to more than 100,000 people worldwide each year.
"The generous donation will provide more than 50 children from Heartland Alliance's Refugee and Immigrant Community Services with the basic necessities to get off to a great start this school year," said Bechara Choucair, MD, vice president of poverty medicine at Heartland Alliance and vice chair for community medicine in the Department of Family Medicine at the Feinberg School.
The idea for the drive came from SRC member Trish Georgas, business manager for the Department of Family Medicine. Like many of the faculty and staff, Trish gained satisfaction from donating supplies and working on the committee. "This type of drive offers those of us who don't have the opportunity to volunteer on a regular basis to contribute to something much bigger than ourselves with the time we do have," she says. "This was a way to help meet the many needs of communities very near where we spend most of our day."
Heartland Alliance's work is not new to the Feinberg School. Through the Department of Family Medicine, the two have created a partnership to promote research, service, and educational opportunities for faculty, students, and residents at Northwestern as well as for the staff at Heartland.