Science Club Teaches Kids About Genetics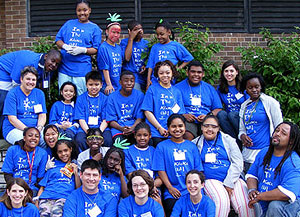 Feinberg School staff and Science Club volunteers (front row from left) Susan Hammond, Mike Kennedy, Miranda Bernhardt, Julia Jackson Mackenzie, (third row left) Carolyn Jahn, and (third row right) Lauren Strelec.
Swarms of children bustled with excitement at the Boys and Girls Club of America in the Uptown neighborhood of Chicago. But it wasn't the filming of Johnny Depp's new John Dillinger movie two blocks away that had them stirring. It was their own group of junior scientists.
Bright blue T-shirts distinguished the members of the facility's first-ever Science Club from the rest of the group. They presented science experiments at the culmination of a 10-week trial program run by a team of students and faculty from Northwestern University.
"A lot of energy went into this, but it was well spent energy," said Michael Kennedy, director of education and research programs at Northwestern's Center for Genetic Medicine. "This was an easy investment of time for me."
Kennedy, with three kids of his own, conceived of the Science Club that taught a group of nearly 20 children, ages 8-14, how to better understand DNA, molecules, the periodic table of elements, and other concepts. He was joined by Carolyn Jahn, PhD, associate professor of cell and molecular biology, who developed the Science Club's hands-on lab activities.
"A lot of these kids wouldn't have the opportunity to go to camp over the summer" so this offered a camp alternative to learn about science, said Lauren Strelec, a volunteer for the Science Club.
Strelec works as a program assistant at the Feinberg School of Medicine and said volunteering is a way to share her education.
"I feel lucky," she said, as kids scrambled around her in lab coats and goggles, setting up their experiments for a science fair. "I really want to keep in touch. You develop a connection with the kids."
The feeling was mutual. Eight year-old Alasia and nine year-old Laura expressed their excitement about presenting what they had learned to the other kids. They demonstrated experiments that identify carbohydrates.
The girls would be putting iodine on food for their presentation. "If it turns black, it means it has carbohydrates in it," Alasia said.
The Boys and Girls Club of America recommended the Uptown chapter to Kennedy when he went looking for a program with which to collaborate. Mike Anderson, a director at the club, responded immediately, saying the chapter never had anything like it before.
"I can't say enough good things about Mike," said Kennedy.
Aside from adding Kennedy's program, Anderson's chapter of the Boys and Girls Club has invited speakers including a world-class domino player and a representative from the Chase Bank who taught the kids about financial planning.
"I've been so impressed with the club," Strelec said.
The Science Club members were given two questionnaires over the course of the program. One was given at the beginning to field their interests and one at the end so they could express their attitudes about the experience.
"Every single kid said they learned something new, had developed a greater interest in science, and would recommend the Science Club to a friend," said Kennedy. He said he felt he was investing in the lives of future scientists.
Alasia and Laura looked enthusiastically to the future. "Maybe I'd be a scientist so I could do experiments and stuff," said Alasia.
Laura said she might volunteer when she's older to "teach children about science."
Before the members presented their final projects to their squirming audience, Kennedy said a few words to them.
"If you like what you see here today, talk to Mr. Mike about the Science Club in fall," he said.
After a crowd of interested kids finished looking at all the projects, the Science Club surprised Kennedy with a thank-you card and plaque. He had a surprise of his own.
"When you go to a university someday, you'll get a certificate you can hang on your wall that you'll be very proud of," he said. "We also have certificates for you today."
The Science Club sponsors said they hope to acquire grants to continue the Science Club and thanked the Alumnae of Northwestern University for the contribution that supported the kickoff program.
For Kennedy, the future of the Science Club looks promising, and he plans to expand it next fall to include multiple groups of kids, he said.
"We think we have a successful idea here," he said.
Eleanor Perry-Smith, Medill Reports – Chicago