Gerbie Honored at Retirement Reception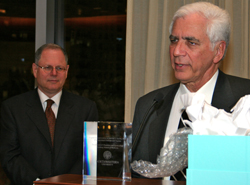 Dr. Mel Gerbie addresses the crowd after receiving a crystal plaque from
Dr. Sherman Elias (left), chair of the Department of Obstetrics and Gynecology.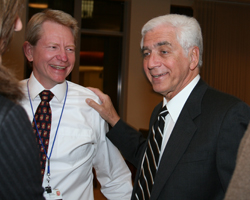 Well-wishers attending the reception included many department colleagues, such as Dr. Jeffrey Dungan, who shares a laugh with the person of honor.
Friends, family, colleagues, and fellow Northwestern alumni celebrated the retirement of Melvin V. Gerbie, MD '60, professor of obstetrics and gynecology, earlier this month. Dr. Gerbie has been a faculty member at the Feinberg School since 1973 and was appointed the George H. Gardner, MD, Professor of Clinical Gynecology from 1997 to 2006.
Sherman Elias, MD, John J. Sciarra Professor and Chair of Obstetrics and Gynecology, served as master of ceremonies at the reception, held in the atrium of the Harris Family Auditorium at Northwestern Memorial Hospital's Prentice Women's Hospital. Dr. Elias enumerated Dr. Gerbie's many contributions to his profession, the hospital, and the school, which were recognized over the years with two Northwestern University Merit Awards and a Feinberg School Service Award. "Given all these accomplishments," said Dr. Elias, "Mel's greatest legacies will be as a dedicated and talented teacher of hundreds of medical residents and thousands of medical students, and most of all for the compassionate, knowledgeable, and highly skilled care he gave to generations of his patients as an obstetrician and gynecologist."
Dr. Gerbie's exemplary skills as a teacher have been recognized with two Magnus P. Urnes Teaching Awards in Obstetrics and Gynecology from the medical school, a student teaching award from the Association of Professors of Gynecology and Obstetrics, and a national teaching award from the Council on Resident Education in Obstetrics and Gynecology. He has been a member of several professional organizations, including the American Society of Colposcopy and Cervical Pathology and Society for Gynecological Surgeons. Dr. Gerbie served as president of the Central Association of Obstetricians and Gynecologists and as an examiner and a member of several committees for the American College of Obstetrics and Gynecology (ACOG), including those on maternal-fetal medicine and professional standards. He was an associate editor for ACOG's journal and vice president of its health care commission.
His look back at how his career evolved have provided a snapshot of how his patients and the profession changed over the years. As a young physician, he joined the private practice of his late brother, Albert B. Gerbie, MD, as a volunteer faculty member at Northwestern. "When I first started practice, patients came to me because they couldn't get in to see my brother," he said, eliciting laughter from the audience. "I accepted that," he continued with a smile. "Then for a relatively short time in my career, they came to me because they heard something decent about me or were referred by their physicians. And now for the last few years, why do they come to me? They can't get in to see a woman doctor! I can live with that, too."
Although Dr. Gerbie is retiring from clinical practice, Dr. Elias noted that he will continue to be involved in meeting with Northwestern residents and medical students and attending departmental grand rounds and conferences. "In this way we can still benefit from his vast experience and insights," Dr. Elias added.