Celebrating a Quarter Century of Service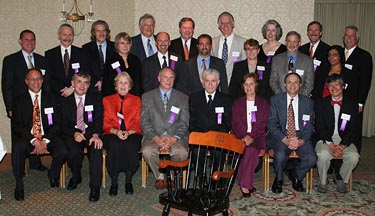 An event is considered successful when the attendees won't stop talking with each other long enough to walk next door into an elegant room offering a meal fit for royalty. That's exactly what happened at the reception held June 4 at the Wyndham Chicago Hotel for faculty members who had contributed 25 years' service to Northwestern University's Feinberg School of Medicine. The honorees and their guests were having such a good time that dinner had to be delayed.
Dean Lewis Landsberg, MD, noted that recognizing this group would be one of his last official duties as dean as he steps down on June 30. He acknowledged each faculty member present and spoke highly of the significant contributions they all had made. "You can't be thanked enough for the hard work you've done and what you've achieved for our school during the past 25 years," he said.
Chocolate bow ties were served that evening as a fond reference to the bow ties worn by Dean Landsberg.
With a busy schedule that leaves little time to socialize, Rowland W. Chang, MD, MPH, professor and interim chair of preventive medicine, commented that he enjoyed being at a low-key event with interesting colleagues, delicious food, and live music.
Robert E. Eilers, MD, JD, instructor in clinical physical medicine and rehabilitation, and wife Karen Eilers, JD, attended the event with their son, Rob, who had just been accepted into Northwestern University's School of Law where his parents had met. Besides celebrating Dr. Eilers' 25 years of service at the University, the couple is marking 25 years of marriage. "It's a big year for us," Karen Eilers said. The couple has two other children, one of whom is a freshman at Northwestern.
Noel A. DeBacker, MD, assistant professor of clinical medicine, recalled that he met Robert L. Murphy, MD, professor of medicine, 26 years ago when Dr. Murphy interviewed him for a position at Northwestern. "Bob took me out for lunch at a nearby hangout," Dr. DeBacker said. "It wasn't fine dining because time was tight. I was impressed by what he said, and now I've been here 25 years!"
Piano selections played by Lee Burswold helped create an elegant mood for the evening. Some honorees were heard humming or singing phrases of beloved American standards such as "They Can't Take That Away from Me," which rings true. That special 25th anniversary faculty celebration—a milestone and wonderful social event now a memory—can't be taken away.
The 63 honorees, who each received a Feinberg School of Medicine captain's chair as a memento of one quarter century of service, are
Stephen L. Adams, MD, emergency medicine
Mary A. Adams, MD, pediatrics
Guenter Albrecht-Buehler, PhD, cell and molecular biology
Freidoon Azizi, MD, obstetrics and gynecology
Irwin Benuck, MD, PhD, pediatrics
Leonard T. Carr, MD, psychiatry and behavioral sciences
Rowland W. Chang, MD, MPH, preventive medicine
Nancy W. Condon, MD, pediatrics
Noel A. DeBacker, MD, medicine
James C. Dohnal, PhD, pathology
Margarita L. DuBocovich, PhD, molecular pharmacology and biological chemistry
David R. Edelstein, MD, psychiatry and behavioral sciences
Robert E. Eilers, MD, physical medicine and rehabilitation
George S. Firlit, MD, orthopaedic surgery
Emalee G. Flaherty, MD, pediatrics
Peter B. Geittmann, MD, obstetrics and gynecology
Carol R. Gerson, MD, otolaryngology—head and neck surgery
Robert Goldschmidt, MD, pathology
Richard M. Gore, MD, radiology
Scott J. Greene, MD, anesthesiology
Joseph R. Hageman, MD, pediatrics
Steven H. Hanus, MD, psychiatry and behavioral sciences
Thomas L. Hauch, MD, ophthalmology
Frederick C. Hess, MD, emergency medicine
Babette Horn, MD, anesthesiology
Loren W. Hutter, MD, obstetrics and gynecology
Alan M. Jaffe, PsyD, psychiatry and behavioral sciences
Peter L. Jaggard, MD, medicine
Puangpeth Jantra, MD, physical medicine and rehabilitation
Margery R. Johnson, MD, psychiatry and behavioral sciences
Kenneth Kaye, PhD, psychiatry and behavioral sciences
Tom C. Krejcie, MD, anesthesiology
Elaine Leboff-Reis, MD, medicine
Michael H. Levinson, MD, psychiatry and behavioral sciences
Eva F. Lichtenberg, PhD, pediatrics
Robert H. Listernick, MD, pediatrics
Robert M. Magrisso, MD, medicine
Kris G. McGrath, MD, medicine
Dietra D. Millard, MD, pediatrics
Joseph F. Mitton, MD, emergency medicine
Robert J. Moretti, PhD, psychiatry and behavioral sciences
Charles L. O'Brien, MD, pediatrics
Carolyn S. Oesterle, MD, ophthalmology
Reid M. Perlman, MD, radiology
Robert M. Pick, DDS, surgery
Steven T. Rosen. MD, medicine
Babette S. Sanders, MS, physical therapy and human movement sciences
Eitan D. Schwarz, MD, psychiatry and behavioral sciences
Leela Selvam, MD, pediatrics
Stephen F. Sener, MD, surgery
John S. Sholl, MD, obstetrics and gynecology
Gordon J. Siegel, MD, otolaryngology—head and neck surgery
George A. Sisson Jr., MD, orthopaedic surgery
Frederick A. Smith, MD, pathology
Horace E. Smith, MD, pediatrics
Dennis B. Solt, JD, MPH, pathology
Justina L. Tanhehco, MD, physical medicine and rehabilitation
Randall M. Toig, MD, obstetrics and gynecology
Tat-Kin Tsang, MD, medicine
Daina Variakojis, MD, pathology
Robert L. Vogelzang, MD, radiology
Jane B. Wicklund, PhD, psychiatry and behavioral sciences
Deborah Zuskar, PhD, psychiatry and behavioral sciences
Posted June 28, 2007