Feinberg School Annual Report Now Online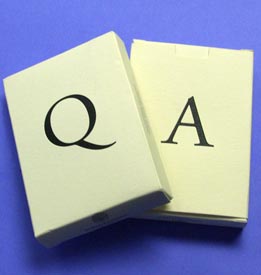 The latest annual report for Northwestern University's Feinberg School of Medicine, 50 Questions, 50 Answers, is now available online. The print version of the report came with a note from Dean Lewis Landsberg, MD, explaining that the cream-colored box contained neither coasters nor playing cards but rather the school's fiscal year 2005–06 annual report.
The new report has generated more feedback than any of the five previous ones produced by the school's Office of Publications and Public Relations in collaboration with Pivot Design of Chicago. One recipient, who preferred a more traditional report, suggested "going back to the old format" while another wrote, "I would recommend changing the medicine your creative team is on."
But the vast majority of respondents were positive, making such comments as "You have set the bar for inventive annual reports" and "This is the first time I've read every word of an annual report." One individual, who noted that he had read annual reports for more than 50 years, offered, "Yours is the most creative and imaginative."
In April 50 Questions, 50 Answers won a gold award in the annual report category from Healthcare Marketing, an annual national competition recognizing the communication efforts of hospitals and other health care organizations.
Test your knowledge of the Feinberg School of Medicine by visiting 50 Questions, 50 Answers at www.feinberg.northwestern.edu/ar/2006/.