November 15, 2006
Contact: Alan Cubbage at 847/491-4886 or
a-cubbage@northwestern.edu
Jameson Named Dean of the Feinberg School of Medicine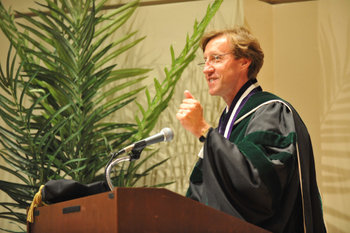 CHICAGO—J. Larry Jameson, MD, PhD, has been named vice president for medical affairs and dean of the Feinberg School of Medicine at Northwestern University effective July 1, 2007.
His appointment was announced November 15 by University President Henry S. Bienen and Provost Lawrence B. Dumas. Dr. Jameson will succeed Lewis Landsberg, MD, who announced plans to step down from the positions at that time.
Dr. Jameson joined the Feinberg faculty in 1993 as chief of the division of endocrinology, metabolism, and molecular medicine. He is the Irving S. Cutter Professor and has served as chair of the Department of Medicine since 2000.
"Dr. Jameson epitomizes the highest standards in the field of academic medicine," Bienen said. "He combines outstanding research and scholarship and is recognized nationally as a leader in his field."
Dr. Jameson's research focuses on molecular endocrinology. His laboratory studies fundamental mechanisms that control the transcription of endocrine genes. His group is investigating hormonal regulation of the glycoprotein hormones, including thyroid-stimulating hormone, luteinizing hormone, and chorionic gonadotropin. He is also making concerted efforts to bridge laboratory studies with clinical endocrinology using recombinant DNA methods to investigate the pathophysiology of endocrine disorders.
Provost Dumas said, "Dr. Jameson has identified the genetic basis of more than a dozen different hormonal disorders. As an editor of Harrison's Principles of Internal Medicine, his expertise in genetics and endocrinology has a global impact."
Dr. Jameson said, "I am honored to have been chosen to succeed Lewis Landsberg, an outstanding physician-scientist, teacher, and leader. The Feinberg School of Medicine, in partnership with our clinical affiliates, is one of the nation's premier academic medical centers. This is an exciting period in the history of medicine. Advances in research hold the promise of preventing and treating many of the most debilitating diseases. In recent years, the medical school has added new facilities, expanded its faculty and research funding, and developed innovative new research and education programs. This dramatic growth has been catalyzed by the generous support of our philanthropists and hospital partners, who share our vision and ambitious goals. Academic medical centers are also charged with training new generations of physicians and with leading efforts to improve the delivery and quality of health care. We are positioned well to continue our leadership role to meet the challenges of the 21st century."
David B. Weinberg, chair of the Northwestern Board of Trustees' Medical Affairs Committee, said, "As one of the nation's most distinguished clinicians and scientists, Dr. Jameson is a thought-leader whose work is shaping the future of medicine, medical research, and medical education. Under his leadership, the Feinberg School's impact on the health of current and future generations will continue to grow."
Dr. Jameson has had more than 250 scientific articles published, including reports in journals such as the New England Journal Medicine, Nature Genetics, Science, and the Journal of Clinical Investigation, as well as several specialty journals in endocrinology.
Dr. Jameson has been elected to the American Academy of Arts and Sciences, the oldest learned society in academia, and the Institute of Medicine, established by the National Academy of Sciences to honor professional achievement in the health sciences. He also has served as president of The Endocrine Society, an organization with more than 10,000 members, and has been elected to the American Society of Clinical Investigation and the Association of American Physicians.
He also has been the recipient of several other awards, including the Oppenheimer Award from The Endocrine Society and the Van Meter Award from the American Thyroid Association, and has served as a visiting lecturer at leading institutions around the world.
Dr. Jameson received his MD and PhD degrees in 1981 from the University of North Carolina before performing clinical training in internal medicine at Massachusetts General Hospital in Boston.
He rose through the faculty ranks at Harvard Medical School to become associate professor of medicine and chief of the Thyroid Unit at the Massachusetts General Hospital before joining Northwestern in 1993.
Northwestern University, primarily through the Feinberg School, is part of the McGaw Medical Center of Northwestern University, an academic medical center in education, research, and clinical services.
Other McGaw members are Children's Memorial Medical Center, Evanston Northwestern Healthcare, Northwestern Memorial Hospital, Rehabilitation Institute of Chicago, and Jesse Brown VA Medical Center (formerly VA Chicago Health Care System). Medical students and residents receive part of their education at these hospitals, and nearly all the attending staff members have faculty appointments at the Feinberg School.
Leaders at those institutions had the following comments about Dr. Jameson's appointment as vice president for medical affairs and dean of the Feinberg School.
Dean M. Harrison
President and Chief Executive Officer
Northwestern Memorial HealthCare
"During his tenure as chairman of medicine, Dr. Jameson has been a valuable partner in helping to advance our shared vision of increasing Northwestern's recognition as a great contemporary academic medical center. As a physician-scientist, we have benefited from his thoughtful perspective and look forward to working with him in this new capacity."
Mark R. Neaman
President and Chief Executive Officer
Evanston Northwestern Healthcare
"Evanston Northwestern Healthcare welcomes the opportunity to work with Dr. Jameson in our longstanding and growing partnership with Northwestern University. Our attending physicians serve on the Feinberg School faculty at Northwestern University. And our ENH Research Institute, the research arm of ENH, collaborates with the Feinberg School and the University's basic sciences and biomedical engineering departments to enable both institutions to make the most of their physical and intellectual resources."
Patrick M. Magoon
President and Chief Executive Officer
Children's Memorial Hospital
"We're very much looking forward to partnering with Larry Jameson as the new dean of theFeinberg School of Medicine and continuing to build on the excellent relationship both institutions have had over the last 60 years to advance the mission of pediatric health care."
Joanne C. Smith, MD
President and Chief Executive Officer
Rehabilitation Institute of Chicago
"RIC is thrilled about the appointment of Dr. Larry Jameson to dean, and we congratulate him on this accomplishment. He is a remarkable physician, scientist, and medical educator with great vision for the future of the Feinberg School of Medicine. The faculty and leadership of RIC are enthusiastic about partnering with Dr. Jameson in research and education so as to achieve our mission of making a difference in the lives of people with disability on the world stage."