Lecture Explores Health Disparities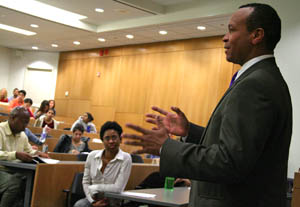 Feinberg School alumnus Dr. Charles Modlin, a transplant surgeon at the Cleveland Clinic, shares his insight on barriers to health care for minority populations.
When a black man living in Harlem has less of a chance of reaching the age of 65 than a man in Bangladesh due to health status and access to services, a problem clearly exists with health care in America. Citing this conclusion from a landmark study published in 1990, Charles S. Modlin Jr., MD '87, explored health disparities in "Addressing the Unmet Needs of a Community" on October 26 in the Daniel Hale Williams Auditorium. Organized by the student-run Health Disparities Task Force, Dr. Modlin's talk was cosponsored by the Office of Minority and Cultural Affairs and the NU Medical Alumni Association.
One of only 20 African American transplant surgeons in the country, Dr. Modlin shared his thoughts about overcoming health inequities in the United States and his desire to make a difference by founding and heading the Cleveland Clinic's Minority Men's Health Center. One of the first of its kind to be created in a major medical center, the center opened in June 2004 after Dr. Modlin took a hard look at the unmet needs of the community literally surrounding his office at the Cleveland Clinic. He saw an underserved minority population—primarily black—who were so close to world class care but had no idea or ability to access it. The health problems of these Cleveland Clinic "neighbors" mirrored, to some degree, those of their counterparts around the country.
"Forty-four percent of African Americans die from cancer and 30 percent from heart disease. Diabetes is highly prevalent in the black community. HIV is a leading killer of African American males between the ages of 25 to 44," stated Dr. Modlin. "There are measurable incidences of disease among this population that can't be ignored. Recognizing the fact that health disparities exist is very important because it is the first step toward solving a problem."
For Dr. Modlin, finding a solution close to home began with establishing an annual Minority Men's Health Fair at the Cleveland Clinic. In 2003 the fair attracted 33 participants; this April the event drew 1,100, who came for free health screenings and to learn more about how they can be advocates for their own physical and mental well-being. These fairs as well as the center have helped to break down barriers such as cultural differences, lack of health insurance, and health illiteracy that have led to health care disparities among racial and minority groups. However, other roadblocks to good health may manifest themselves in more subtle ways. For example, even the specialization of medicine may have an influence. Says this urology specialist, "Many physicians don't see the complete picture of a patient, which could contribute to health disparities as well."
Lack of cultural competency and perhaps physician bias can also be challenging, according to Dr. Modlin. "In an Emory University study on fractured bone, black patients were two-thirds as likely to receive pain medication as whites," he said. "While it is unlikely that the black patients had less pain, it is more likely that poor communication led to this difference."
Dr. Modlin touched upon the area of tailoring medications for specific racial groups, which he acknowledged can be controversial. "BiDil is a new drug used to treat congestive heart failure in African Americans. Now why would the Food and Drug Administration approve a medication for only one race of individuals? Because it works," said Dr. Modlin. "BiDil is an example of what one might call 'race-based' medicine. Its use raises emotional responses and ethical discussions. While we should let the ethical debates go on, I think we should at the same time support and refine the benefits and results of this drug." BiDil has been shown to decrease the risk of mortality from heart failure in African Americans by 43 percent, according to Dr. Modlin.
A proud Northwestern alumnus and recipient of the 2003 Alumni Merit Award, Dr. Modlin urged medical students attending his noon-time talk to draw inspiration from his experience and give back when opportunities arise. "Pursue your dreams, expect failure but bounce back, and don't be surprised if people try to block your path," said Dr. Modlin, who is a member of the Feinberg School's Alumni Association National Board and serves on the Scholarship Committee. "When I first began this work, some people thought I was promoting reverse discrimination. All I can say is that you have to believe and keep moving forward. Sometimes it just takes time for people to understand what you are trying to achieve."
The Health Disparities Task Force sponsors programs that increase awareness among Feinberg students and faculty members about the challenges diverse groups in the United States face. "We hope students will learn from our events that health disparities are multifactorial and more than, for example, black versus white," explains Tamika E. Bailey, one of four second-year students who govern the task force. "Health disparities exist between people for different reasons, from socioeconomic status and sexual orientation to gender and language.
"We are particularly excited about Dr. Modlin's talk because he is an alumnus of Northwestern, which really brings home the message that our alumni are making a difference in their practices," continues Bailey. "Hopefully his work will inspire students and faculty members to take on their own unique projects based on their passions and the patient populations they serve."