August 16, 2006
Northwestern Receives Gates Grant for Medical Diagnostics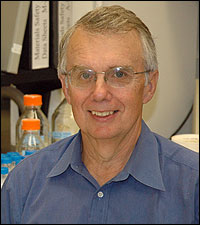 David Kelso, PhD
EVANSTON, Ill.—Northwestern University has received a four-year, $4.9 million grant from the Bill & Melinda Gates Foundation to develop and produce affordable diagnostic devices for infectious diseases plaguing developing countries. The grant is part of the foundation's Grand Challenges in Global Health initiative.
Earlier this year the foundation awarded a $3 million grant to Northwestern's Program of African Studies to study HIV prevention strategies in Africa.
While some diagnostic tests are available for low-income countries in Africa and Asia, they can be improved to detect diseases earlier and more cost effectively. Better test systems also are needed for disease monitoring and to detect the emergence of infectious agents resistant to drugs.
To succeed in developing countries, tests need to be easy to use and faster so patients can be diagnosed and treated in one visit to a clinic. Diagnostic tests and related instruments also need to be affordable and better designed for the environment in which they will be used and for the culture of the people who will use them.
David Kelso, PhD, associate professor of biomedical engineering in the McCormick School of Engineering and Applied Science, has assembled a team of experts in engineering, life sciences, business, infectious diseases and African governance and culture to address these challenges. Northwestern's new Center for Innovation in Global Health Technologies includes faculty and students from McCormick as well as the Kellogg School of Management and Feinberg School of Medicine. In addition, two commercial collaborators, Abbott and Inverness Medical Innovations, Inc. (Amex: IMA), are contributing their expertise in diagnostic testing.
"This year, more than 4 million people will die in developing countries of diseases that can be treated if diagnosed in time," said Dr. Kelso, lead investigator on the project, who was in South Africa this spring teaching a course on global health care technology innovation.
"Forty million people are living with HIV/AIDS worldwide, two-thirds of them in sub-Saharan Africa," he said. "Tuberculosis is increasing dramatically in concert with HIV, and the average government spending on health care in developing countries is less than $10 per person per year. The technology exists to detect these diseases, but more appropriate and affordable products incorporating the technology are desperately needed."
During the first phase of the multiyear project, engineers and scientists will research and develop platform technologies that can be used as the basis for a wide range of diagnostic tests. At the same time, Kellogg students will define product requirements and identify high-impact markets in the developing world. In the second phase, the Northwestern researchers will focus on two targeted products. They will then scale up those designs in preparation for field testing prototype devices in Africa.
Dr. Kelso will recruit a multidisciplinary team of research scientists, engineers, postdoctoral fellows, and graduate students from both engineering and the biological sciences. The innovation center will be located in the O. T. Hogan Biological Sciences Building on the Evanston campus where the team will develop new devices in a biotech startup environment. To minimize the cost and time in bringing products to market, the platforms will build on proven technologies and components from both commercial and academic sources.
During the development phase, Abbott and Inverness will provide technical advice and assistance related to assay components used to detect infectious diseases.
Market requirements will guide the scientists and engineers in their final designs. "We first want to ask, 'Where can a better diagnostic device make a real difference?'" said Dr. Kelso. "That's the challenge. We want to improve the quality of life. Although we know HIV/AIDS is a major problem in Africa, HIV monitoring may not be our first product. It could be for tuberculosis or some other infectious disease."
Through Kellogg School's Global Health Initiative (GHI), students already are working to identify potential products. The students are studying users and markets in developing countries, analyzing current competitive offerings, identifying needs not addressed by current products, and working with local officials to understand health priorities and product distribution channels. Analysis of this information will guide the entire team in making business and scientific decisions and formulating a commercial strategy.
"This project exemplifies Kellogg School's mission to develop globally aware and responsible business leaders," said Daniel Diermeier, PhD, IBM Distinguished Professor of Regulation and Competitive Practice at Kellogg and co-principal investigator on the project. "It increases students' knowledge about emerging market issues and requirements for conducting business in these markets. It provides them with a vehicle for tying together classroom theory and practical experience through action learning.
"We believe that the partnership among Northwestern, Abbott, and Inverness may offer other universities a model for addressing important societal problems while providing practical learning and research opportunities for students and faculty," he said.
From the start, researchers from both the engineering and business sides will travel to clinics in developing countries and talk to potential product users and clinicians. The team also plans to engage university students and researchers in low-income countries to collaborate on product design, test prototype concepts and provide market information.
Richard Joseph, DPhil, director of Northwestern's Program of African Studies and principal investigator on the first Gates grant, is also an investigator on the diagnostic development project. (The first grant supports innovative social science and community-specific research that is expected to lead to the creation of more successful HIV prevention efforts in Nigeria.)
Dr. Joseph will help ensure that the diagnostics researchers are sensitive to cultural factors in their interactions with people in the field and that products are appropriate for the setting in which they will be used.
Once the prototypes are ready for testing in Africa, Kelso will team up with Robert L. Murphy, MD, John Philip Phair Professor of Infectious Diseases at the Feinberg School and an investigator on the project, to prepare field trials and make sure the designs work under real-life conditions. Dr. Murphy, an internationally recognized clinical AIDS researcher, has established a global network of clinical investigators to conduct trials of therapeutics for HIV infection.
"The antiviral drug shortage is easing up, and now the focus is on reliable, user-friendly diagnostic and monitoring devices that can be used in settings where there is little formal infrastructure or resources," said Dr. Murphy. He is Nigeria's country director for President Bush's Emergency Plan for AIDS Relief, a $15 billion program providing AIDS treatment and support in 16 selected countries, mostly in sub-Saharan Africa. Dr. Murphy also works with groups in Kenya, Mali, and Senegal who are providing AIDS treatment.
"Everybody is looking for the most cost-efficient and simple testing devices," he said. "Having the drugs alone is not enough to provide appropriate care in these tough settings."
In addition to the Kellogg students' involvement in the GHI program, the Center for Innovation in Global Health Technologies will provide educational opportunities related to the center's work to graduate and undergraduate students in the McCormick School, Kellogg School, and Weinberg College of Arts and Sciences. The researchers will establish links with existing courses to develop related projects, such as the study abroad program for undergraduate biomedical engineering students at the University of Cape Town in South Africa, which began this spring.