Martha Twaddle Passionate About End-of-Life Care
by Cheryl SooHoo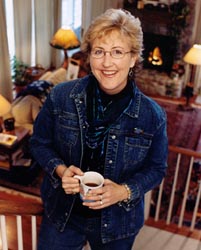 Mentors have meant a great deal to Martha L. Twaddle, MD, GME '89. She has valued their sage advice and used their counsel in many ways to define her life. So in 1989 when Harry J. Miller, MD, now associate professor emeritus of medicine and former head of hematology at Evanston Hospital, suggested that Dr. Twaddle become medical director for the Hospice of the North Shore, she didn"t hesitate for a moment before wholeheartedly agreeing with him.
"I said, 'Sure,'" recalls Dr. Twaddle, who at the time was a chief resident in internal medicine at Evanston Hospital. "Then I asked him, 'What"s hospice?'"
Dr. Twaddle soon discovered that hospice—a component of palliative care—was a holistic and interdisciplinary approach to supporting seriously ill and dying patients and their families not only medically but also emotionally, culturally, and spiritually. While the concept of alleviating pain and suffering existed long before the advances of modern medicine, hospice and palliative care programs have only emerged as a growing force in U.S. health care in recent years since their introduction to this country in the mid-1970s. Little did the young chief resident know in 1989 that she would have a hand in developing and expanding the field.
"I needed to learn about hospice, so I attended a meeting of the international Academy of Hospice Physicians in 1990," says Dr. Twaddle. "At that time there were only 50 members of the academy and most of them were from the United Kingdom, where the hospice movement started in the 1960s. For me, this meeting of major leaders was the beginning of my studies at the feet of giants."
Dr. Twaddle proved to be a quick study—gradually becoming a "giant" in her own right. After completing her residency, this assistant professor of clinical medicine went into private practice for 12 years on the North Shore while continuing to serve as hospice medical director and expanding her knowledge in palliative medicine. Its focus on providing compassionate health care that enhances quality of life for the dying as well as those living with challenging health circumstances appealed to Dr. Twaddle.
"Technology has passed our ethical abilities. We can do so much in medicine, but the question remains, "Should we?"" poses Dr. Twaddle. "In this country we tend to practice "exhaustion" medicine by first exhausting therapeutic means, then finances, and, finally, care givers."
In 2004 Dr. Twaddle became chief medical officer for the newly named and expanded Midwest Palliative & Hospice CareCenter in Glenview, Illinois. A nationally recognized expert and board certified in hospice and palliative medicine, Dr. Twaddle is past president of the American Academy of Hospice and Palliative Medicine and a member of the advisory committee of the National Consensus Project on Palliative Care. Thus she has played an active role in developing best practice guidelines for an area of medicine that is moving toward subspecialty recognition.
"From a group of 50-some people interested in palliative and hospice care, one now finds 1,900 board-certified physicians in hospice and palliative medicine," says Dr. Twaddle. "It has been exciting to watch and participate in the evolution of this field."
In her role as chief medical officer, Dr. Twaddle oversees a group of 12 physicians and serves as program director for the palliative medicine fellowship at Rush Medical College. She also continues her clinical work, consulting and seeing hospice patients in their homes. The rewards of heeding the advice of her mentor, Dr. Miller, those many years ago has led Dr. Twaddle down a career path that has brought her much happiness and satisfaction.
"Being a part of formation of the palliative care movement in the United States has been a joy," says Dr. Twaddle. "I am so happy to have been able to see it as it has happened, meeting the deficits that persist in medicine and helping patients and their families receive the quality care they deserve."
(Reprinted from the Winter 2005–06 issue of Ward Rounds, the quarterly magazine of the Feinberg School of Medicine.)