Galter Library's Restored Rare Books Featured at Block Museum Exhibit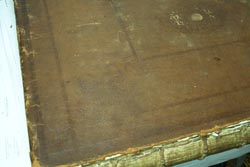 Albinus' Tabulae Selecti et Musculorum Corporis Humani, published in 1747, required restoration before it could be displayed.
The exhibit "Anatomy of Gender" at Northwestern's Mary and Leigh Block Museum of Art explores the relationship between sex, gender, and images of dissection in Renaissance and early modern European anatomical texts published from 1540–1800. Running through March 12, the Evanston campus show features several books from the Galter Health Sciences Library's Special Collections. The A.D. Black History of Dentistry Book Restoration Fund financed the conservation and repair of these rare books.
One of these books, Bernhard Siegfried Albinus' 1747 Tabulae Selecti et Musculorum Corporis Humani, is considered the most important anatomical book of the 18th century. It features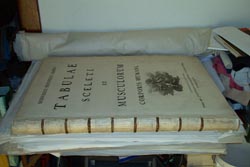 The cover was removed and the spine cords repaired.
copperplates prepared by Jan Wandelaar that established a new standard in anatomical illustration and remain unsurpassed for their artistic beauty and scientific accuracy. A professor at the University of Leiden in the Netherlands from 1719 until his death in 1770, Albinus encouraged his students to do their own studies on corpses and study the works of earlier writers. On the request of the university's curatorium in 1725, he produced a catalog of the anatomical preparations bequeathed to the university by faculty member Johannes Jacobus Rau after his death. That same year he and his colleague Herman Boerhaave prepared a new publication of the complete anatomical and surgical works of Andreas Vesalius, for which Albinus wrote the introduction. Through this project Albinus met Wandelaar, who had engraved the plates, beginning their lifelong collaboration.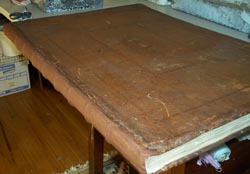 To complete the restoration, a new spine was attached and its linen covering stained to match the color of the original leather.
Lesa Dowd, a former Northwestern University library staff member and now the conservator at the Chicago Public Libraries, performed the restoration of Albinus' book. Along with stain reduction and washing of pages, the book required complete reconstruction of the leather spine and a new linen cover. The cover was then stained to match the original leather.