Northwestern Medical Student Studies French Health Care System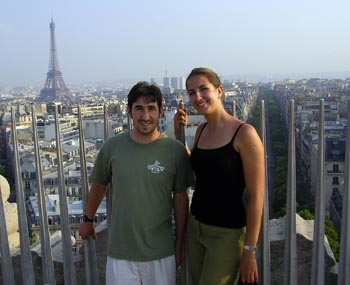 Globe trotting for second-year medical student Adam L. Trotta means seeing the world not just for traveling's sake but also for sharing and learning. This former Peace Corps volunteer spent six weeks in a French hospital this summer, where he studied immigrant health care in the greater Paris metropolitan area. (Trotta, at right, enjoys the Paris skyline with fellow Northwestern medical student Sara Medendorp, who completed a summer research project in Germany.)
Interested in cultural dynamics and the underserved in medicine, Trotta took advantage of his French-speaking skills honed during his Peace Corps service in Guinea and the assistance of medical school alumnus Willard A. Fry, MD '59, to develop an international summer research project. Former chief of thoracic surgery for Evanston Northwestern Healthcare (ENH) and now retired, Dr. Fry has for the past several years run a medical student exchange program between ENH and Northwestern and several French medical schools.
"Together we found an adviser at Avicenne Hospital in Bobigny, a town northeast of Paris," says Trotta, 26, of Medford, Oregon. "Bobigny, the capital of Seine Saint Denis area of France, has the highest proportion of new immigrants, so the hospital deals with a very diverse patient population."
Trotta focused his research on how the public health system in France—in particular, a large hospital like Avicenne—delivers care to immigrant patients and the type of special accommodations it makes to ensure that these individuals receive appropriate services. Trotta also assessed the intercultural dynamics in the hospital environment by interviewing physicians, nurses, and patients and observing their interactions. Explains Trotta, "I wanted to see from the hospital's point of view what they were doing to meet the needs of the immigrant population."

Preliminary results from Trotta's research revealed that hospital personnel did a good job of overcoming multiple language barriers. While hiring translators proved problematic due to the sheer number of languages spoken among small populations of immigrants from different regions of Asia and Africa, the hospital frequently used a telephone service. "The translation in the language that was needed would be done over the phone," explains Trotta, "and the telephone receiver would be passed back and forth between the doctor and the patient." Patient confidentiality concerns prevented the hospital from using translators from the local area as the immigrant communities were close knit and people were likely to know one another.
Trotta also found that despite serving such a diverse patient population at Avicenne, hospital staff had not necessarily received cultural sensitivity training. Patient education was challenging too. "The biggest barrier to accessing health care at this hospital was not logistical but rather navigational," says Trotta. "It seemed that patients had a difficult time understanding, for example, how a hospital works, where they should get treatment, or how to make appointments."
Despite some of these challenges, however, the French hospital system is able to maintain good health care outcomes, according to Trotta.
"I was impressed by the compassion of the French public health care system. They don't turn anyone away," says Trotta. "Given their resources, they are able to deliver amazingly high quality care to almost anyone who comes through their doors."