Clinical Research Conference Features NIH and FDA Leaders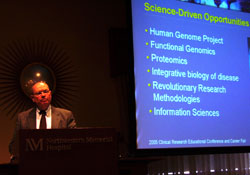 The Northwestern Center for Clinical Research presented the 2005 Clinical Research Conference and Career Fair on May 6. More than 450 individuals attended the event, which highlighted the National Institute of Health's (NIH) "Roadmap for Medical Research," efforts of the Food and Drug Administration (FDA) to ensure the safety of biological products and drugs approved for use, and the state of stem cell therapy at Northwestern.
The NIH Roadmap developed as a result of emerging public health problems such as the graying of America and health care disparities based on race, gender, and socioeconomics. The NIH also wanted to address infectious diseases, obesity, and biodefense issues. To improve the health of the American people, the NIH Roadmap, according to speaker Duane F. Alexander, MD, director of the National Institute of Child Health and Human Development (NICHD), allows the NIH "to take action to maximize the benefits from its research."
Advances in areas such as genomics, biomedical imaging, and nanotechnology provide opportunities for innovative research approaches never before possible. "In the 20th century, we dealt largely with disease once symptoms became apparent," said Dr. Alexander. "The goal in the 21st century is to intervene and make diagnoses before symptoms appear…and delay loss of function and disease as long as possible."
Dr. Alexander discussed "re-engineering the clinical research enterprise" by developing regional translational research centers and providing core services. Next year the NIH will deploy the National Electronic Clinical Trials and Research (NECTAR) network—a computer network of clinical research centers—to more effectively conduct trials and studies. The NIH also plans to form a national group of clinical research associates by training community physicians and develop a Patient Reported Outcomes Measurement Information System (PROMIS).
Educational initiatives include expanding mulitidisciplinary clinical research career development programs—some based on the Medical Scientist Training Program (MD/PhD combined education) model. Recent conflict-of-interest issues have eroded trust in the NIH. The agency's Public Trust Initiative intends to improve interactions and communication with the public.
M. Miles Braun, MD, MPH, director of the FDA's Division of Epidemiology highlighted the organization's efforts to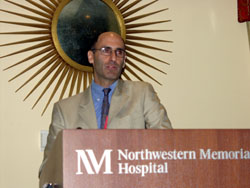 promote the safety of biological products and drugs post-licensure. The FDA receives about 400,000 adverse event reports annually. Sometimes adverse events result from medical error, rather than the product itself. Unanticipated drug interactions and off-label use of new products may also be implicated. If evidence accumulates, the FDA recommends that the sponsor launch epidemiological studies of the product to evaluate problematic trends. Such studies are part of the "pharmacovigilance plans" that the FDA encourages industry sponsors to submit when they apply for approval of a product.
However, even when a product is pulled from the shelves, how it caused adverse effects often is not discovered. The mechanism by which the "Fen-Phen" diet pill caused heart problems is still unknown, according to Dr. Braun.
Richard Burt, MD, associate professor of medicine and chief of the Division of Immunotherapy for Autoimmune Diseases at the Feinberg School of Medicine, noted that the regulatory agencies serve a critical function particularly in his area of stem cell research.
Dr. Burt's NIH-supported clinical trials employ adult hematopoietic stem cells found in the bone marrow and bloodstream to rebuild the immune systems of people suffering from such conditions as multiple sclerosis, systemic lupus erythematosus, and vasculitis. Adult hematopoietic stem cell transplants have been used for many years to treat cancer and leukemias. The process works by destroying cancerous bone marrow and then regrowing it from previously collected healthy stem cells. About 15 years ago, Dr. Burt began animal studies focused on regenerating the immune system. His concept worked, and he's been performing human clinical trials for the past eight years.
"Stem cell help shorten recovery time by about five days," said Dr. Burt. "It gets you out of the hospital faster and decreases the risk of infection and treatment toxicity." Survival data for the first 100 patients Dr. Burt's team treated in the Lupus Non-Myeloablative Stem Cell Transplantation Trial showed a 1.5 percent treatment-related mortality compared with the 7 or 8 perce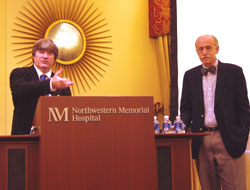 Dr. Richard Burt (left) answers questions from the audience with an assist from Dr. Thomas Schnitzer, director of the Northwestern Center for Clinical Research, who moderated the morning session.
nt reported in current literature.
His presentation also included news video clips featuring some of his patients. One young woman with severe Crohn's disease described the pain as "knives stabbing her stomach." She spent most of a decade being fed intravenously to stay alive since she couldn't eat normally. After treatment from Dr. Burt's team, she went into remission for two years before relapsing. One patient treated for rheumatoid arthritis has been virtually disease-free for one year. She can now walk short distances, which she could not do before.
Dr. Burt's basic research employs embryonic stem cells, which he has shown can be differentiated into hematopoietic stem cells and used to prevent diabetes in mouse models. These differentiated stem cells did not cause graft-versus-host disease even though the experiments were conducted in genetically diverse mice. Despite the controversy over human embryonic stem cell research, Dr. Burt envisions a future of standardized manufacturing processes to create high-quality lots of human stem cells for therapeutic use that could be carefully regulated by agencies such as the FDA and NIH.