In Vivo Slated for January 21–22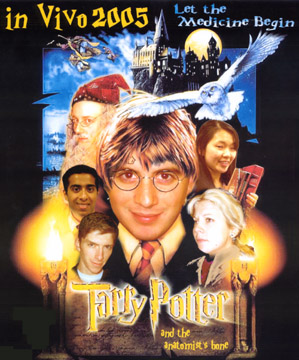 The 26th production of In Vivo, the Feinberg School of Medicine's annual comedy revue, will be performed at 7 p.m. Friday and Saturday, January 21–22, in Thorne Auditorium, 375 East Chicago Avenue, on Northwestern University's Chicago campus. Advance tickets cost $8 each and may be purchased in the Method Atrium, 310 East Superior Street, through Thursday from noon to 1 p.m. Tickets at the door cost $10 each.
In Vivo features the writing, directing, performing, and technical talents of Northwestern medical students. This year's show, "Tarry Potter and the Anatomist's Bone" is an adaptation of the popular Harry Potter books and movies. The student producers are Erin Gillings, Joe Phillips, Jeff Lin, and Chris Nickele.
Proceeds from this year's show will benefit Interfaith House, a residential care facility for homeless men and women in medical recovery. The only agency of its kind in Illinois, the 64-bed facility offers interim housing and support to those who would otherwise lack a stable and safe place to convalesce.
Donations to In Vivo are welcome and will be accepted at each performance.