Feinberg Lecture Features NBC's Robert Bazell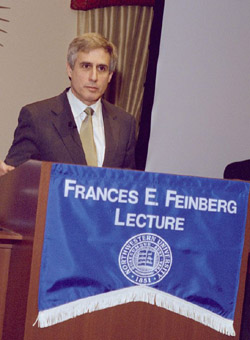 This year's shortage of the flu vaccine has once again highlighted a potential public health threat that shouldn't be taken lightly, according to Robert Bazell, chief health and science correspondent for NBC News and a regular contributor to NBC Nightly News, Today, and Dateline NBC. Bazell spoke at the 9th annual Frances Feinberg Memorial Lecture held November 15 at Northwestern Memorial Hospital on the topic of "Medicine and the Media: Deciding How Much Is Too Much?"
In 1982 Bazell reported on a little known illness that had killed 414 people. That disease was AIDS. Today 58 million people in the world are infected with HIV. Remarked Bazell, "The rise of this disease is an astounding event that has happened just in our time." Bazell contends that another public health concern warrants attention before it, too, gets out of hand. In his estimation, both the media and society have underreacted to a potential influenza outbreak of serious proportions.
"On average there are 36,000 deaths and 200,000 hospitalizations due to the flu each year in the United States," stated Bazell. "These are amazing numbers. Why are we not thinking about this as a serious problem?" The World Health Organization, in fact, called for the first time a summit meeting of flu vaccine makers and nations in early November to discuss the possibility of a flu pandemic. With cases of bird flu popping up in Asia, experts worry about rapidly mutating viruses that make the leap from animals to humans. Said Bazell, "People who study this phenomenon say it is not if but when there will be another flu pandemic."
The worst outbreak of influenza occurred in 1918, when more than 500,000 people died in the United States and 50 million worldwide. Almost half of those who caught the flu bug of 1918 were young, healthy adults—among them Bazell's maternal grandfather who fell ill to the disease and died.
Citing studies demonstrating the benefit of regular flu vaccinations, Bazell feels that the media has helped increase public awareness and encouraged people to get vaccinated. However, more needs to be done to protect the public's health against the flu—a responsibility that belongs to the government, asserted Bazell.
"We have a situation in which what should be a government function has been relegated to private enterprise. The problem is that manufacturing flu vaccine is not profitable," he explained. "To ensure that there is an adequate supply, the government can either make it or guarantee that there is a market for it, for example, by buying lots of unused vaccine."
While the flu season has gotten off to a slow start, Bazell fears that it could pick up and that it will take media coverage of people dying to prompt solutions to a problem that can and should be fixed as soon as possible.
"It often takes a crisis to get people to pay attention," concluded Bazell. "Let's all do our best for prevention."