Opera Buff Shares Passion with Students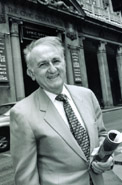 "Culture" for medical students doesn't have to take place just in the laboratory. Thanks to the Feinberg School of Medicine's participation in Lyric Opera of Chicago's College Opera Circle, students are learning that their arts education isn't over even when the "clinically obese" woman sings.
A record number of Northwestern medical students attended professional opera performances for free this year. More than 70 saw at least one of three full dress rehearsals for The Marriage of Figaro, Regina, Lucia di Lammermoor, and other operatic offerings of the Lyric's 2003–04 season such as Madama Butterfly at discount prices.
"Madama Butterfly was nothing short of amazing," exclaims first-year student Amanda J. Redig of Chicago. "A timeless score, talented performers, and main floor seats that, as a medical student, I would have never have had without the support of the College Opera Circle!" It might not have happened without the initiative of a resident opera lover extraordinaire: Michael Altman, MD, professor of medicine and associate dean for medical informatics and computer-assisted learning.
A member of Lyric's lecture corps, Dr. Altman (pictured above) has given more than 200 pre-performance lectures on some 30 different operas during his 15 years of volunteer service with Chicago's premier opera company. Sharing his enthusiasm for opera at libraries and other public forums, Dr. Altman took advantage of an opportunity four years ago to make opera accessible to medical school students.
"I was chatting with Jean Kellogg, director of education for Lyric Opera, about the College Opera Circle," recalls Dr. Altman, who is program cochair and vice president of Lyric's Skokie Valley chapter. "Lyric had recently launched the program for local colleges and universities. While the program naturally appealed to music and other arts-oriented students, I thought, 'Why not do this for medical students too?'"
Indeed, why not? Perhaps the only opera company in the country to provide such a service, Lyric aims to expose the uninitiated to opera and attract future subscribers, according to Kellogg.
"Medicine and the arts go well together," she says. "Opera and other art forms offer a release and total escape from the intensity of medical school and careers in medicine through beauty, literature, and music."
For a membership fee of about $500, the medical school can offer students free passes to dress rehearsals, priority seating for student matinees, study guides, and a pre-performance lecture for each opera. In addition, Lyric makes available to students discounted tickets to other performances. After attending some half dozen operas while at Northwestern, second-year student Amanda M. Everhart of Anchorage, Alaska, knows a good deal and good time when she sees them.
"The whole experience is why I love opera and this program in particular," shares Everhart, who started attending operas in high school. "It gives me a chance to be human for a while and enjoy life outside of medical school. I enjoy getting dressed up and experiencing some culture with a friend and taking in the stories the operas present. Most of all, I love being able to take advantage of something as world class as Lyric Opera for such a low price."
"Cheap" seats aside, first-year student Philip Osztermann of Irvine, California, finds he and his fellow students can benefit from expanding their minds through opera and other cultural activities. "All students should get some exposure to various forms of art to better appreciate the cultures of the world and different ways people express themselves," says Osztermann. "Medical students, in particular, benefit by gaining an insight into the human spirit that can't be taught as effectively in the classroom. Arts can help you become a more open-minded person."
(Reprinted from the Summer 2004 issue of Ward Rounds)