Diverse Paths Highlighted for New Graduates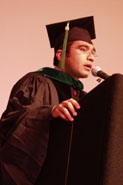 Speaking to a crowd of more than 2,000 people at Northwestern's 146th medical school Graduation Convocation, a newly degreed Suneel M. Udani, MD, of Naperville, Illinois, grinned broadly on the stage of Navy Pier's Grand Ballroom, and said, "Congratulations to my fellow classmates, their families, and friends." He paused, smiled again, and said, "Believe it or not, we made it."
Dr. Udani's words rang true for all 173 members in the Class of 2004 who celebrated their official entry into the medical profession during the May 21 event. In a ceremony whose speakers focused overall on the unified journey completed and the diverse paths ahead, Dean Lewis Landsberg, MD, counseled the graduates to consider three pillars of professional authority in medicine: peer validation and oversight, scientific knowledge and lifelong learning, and the principle of altruism.
"Our primary obligation is to use our knowledge and judgment to meet the needs of our patients," he said. "We exhaust every reasonable effort in providing appropriate care. We do this without regard to personal or financial gain and in the face of significant personal sacrifice and even physical risk. This is the very essence of our profession and underlies the concept of professionalism as it applies to medicine."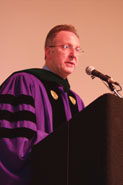 University of Iowa President David J. Skorton, MD '74, of Iowa City, Iowa, spoke in his commencement address, "MD: Destination or Pathway?", about the many possibilities that lay ahead for graduates. Dr. Skorton, who also earned his bachelor's degree from Northwestern, is recognized as a national leader in research ethics, having served as the charter president of the Association for the Accreditation of Human Research Protection Programs, Inc. As Dr. Landsberg noted in his introduction, the esteemed alumnus is also an accomplished saxophone player and hosts a weekly jazz program on KSUI, the university's public FM radio station.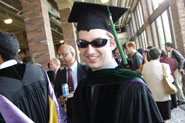 Looking back to his medical school years at Northwestern University, Dr. Skorton recalled the "superb basic science instruction," "strong emphasis on developing bedside clinical skills," "curricular focus on the patient," and "experience of interacting as one human to another." Examining the diverse pathways leading to the medical degree and the ones following, he invited students to "realize the MD degree may lead to an enormous variety of life experiences beyond this day on Navy Pier."
Beyond the traditional callings of medicine, Dr. Skorton indicated the options are limitless, including "pursuing writing or other works in the arts and humanities." However, he focused on one particular overlap of skill sets when he noted that an increasing number of physicians are joining the ranks of management and leadership.
Among the abilities that translate well to leadership is the capacity to "listen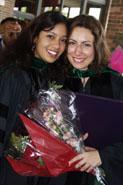 actively and effectively" to hear what people are really saying. "After 25 years in medical practice," he said, "I would say that this is our most important and hard-won skill." In addition, he named several other critical talents: decision-making based on often incomplete evidence, successful communication, dealing well with lack of control, and above all else, vision.
"Although not usually articulated as such, each physician commonly develops a vision for the outcome of each patient encounter," he said. "Similarly, each effective leader must have a vision for the outcome of each leadership decision. As you go forward in your careers, whether in patient care, leadership, or both, I hope you will recognize and employ the skills you have developed."
Echoing the focus on mission in medicine, Dr. Udani delivered the senior class message with an eye to the future. "Why do we do it?" he asked, citing the intensity of their training. "I think the reason is simple: We have hope, and our hope keeps us going."
Most important, this optimism will be applied to all future patients. "We hope that they truly feel cared for as they narrate to us their stories," he said. "And finally, we hope that for any small part their lives have been improved by their calling us doctor. Because we know ours certainly have."
Degrees were conferred by Dean Landsberg and Northwestern Provost Lawrence B. Dumas, PhD. Students were hooded by their college mentors: Denise Au, MD, assistant professor of medicine; Mari E. Egan, MD, assistant professor of clinical family medicine; James P. Kelly, MD '83, associate professor of clinical neurology; and Frank Lefevre, MD, GME '91, associate professor of medicine. Of the 173 graduates, 15 also earned MPH degrees and 6 PhD degrees.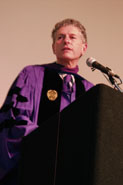 As is tradition, announcing each graduate's name at the commencement was Associate Dean for Student Programs Jack F. Snarr, PhD '67, who is retiring this year after more than three decades of service to Northwestern. Dean Landsberg noted that Dr. Snarr has officiated at 29 commencements since 1975, or, one-fifth of such ceremonies in the entire history of the medical school. After this tribute, Dr. Snarr joked, "Thank you. You make me feel so young." On behalf of the senior class, Komal Bajaj, MD, of Lisle, Illinois, provided the retiring dean with a special gift in recognition of his love of the outdoors: a three-pack combination toolkit and floating First Aid kit.
Addressing all the parents in the audience, Dr. Snarr said, "I would like to take a moment to express my appreciation and gratitude for the opportunity to share—however briefly—the lives of your highly talented and fascinating progeny. I speak not only to you as parents but to those 28 groups of parents who preceded you." Counting the eight years before his tenure as assistant dean when he taught cardiopulmonary physiology, Dr. Snarr noted that he was grateful to "have had some significant role in the education of more than 6,500 Northwestern physicians in whose ability I can have complete confidence."
Dr. Bajaj also introduced the Class of 2004's outstanding teachers, including Vinky Chadha, MD '91, GME '94, assistant professor of medicine, who for the second consecutive year won clinical teacher of the year. Sharing the award for basic science teacher of the year in 2001 were Larry R. Cochard, PhD, assistant professor of medical education, and Randolph P. Perkins, PhD, assistant professor of physical therapy and human movement sciences. Thomas C. Corbridge, MD, associate professor of medicine, received the same award in 2002.