Job Fair Slated for May 26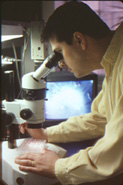 The Feinberg School of Medicine hopes to repeat the success of last year's job fair, which brought more than 1,800 resumes for 107 positions, with the fourth annual "open house recruitment event" on May 26 from 3–6 p.m. in the Method Atrium of the Chicago campus, 300 East Superior Steet.
Like last year, the job fair will emphasize open research and administrative positions at the medical school, including research technologists, research study program coordinators, project coordinators, department and program assistants, and secretaries. Representatives of various medical school departments, divisions, centers, and programs will be available to speak with job-seekers wishing greater detail about the positions posted.
Recalling last year's open house, Vera Potapenko, director of human resources, said, "The diversity among the candidate pool was incredible. We had men and women representing a variety of ethnic groups, races, ages, and educational backgrounds. Some had just finished college, and some were several years out from formal education. Attendees also included people from other countries who had earned PhD degrees and were looking for research tech jobs."
To learn more about job openings at Northwestern, visit www.northwestern.edu/employment .