April 26, 2004
Medical Alumni Honored During Reunion Weekend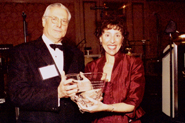 At the Reunion Ball on April 24, the closing event of the Feinberg School of Medicine's annual Alumni Weekend, pediatric endocrinologist Ora Hirsch Pescovitz, MD (shown here with Dean Lewis Landsberg, MD), received this year's Distinguished Alumni Award. She credited Northwestern for instilling in her a "passion for medicine."
A native Chicagoan, Dr. Pescovitz is Edwin Letzter Professor of Pediatrics and professor of cellular and integrative physiology at Indiana University (IU) School of Medicine in Indianapolis. She is director of the Section of Pediatric Endocrinology and Diabetology at the medical school. Since 2000 Dr. Pescovitz has served as executive dean of research affairs at IU. She has received numerous grants from the National Institutes of Health (NIH), including a Research Career Development Award, for her work in the areas of growth and puberty. A respected teacher, she has been honored with a number of teaching awards, most recently receiving IU's Teaching Excellence Recognition Award in 1999.
Dr. Pescovitz earned her MD degree through Northwestern's Honors Program in Medical Education, graduating in 1979. She completed pediatrics residency training at the University of Minnesota in Minneapolis (1979–81) and Children's Hospital National Medical Center in Washington (1981–82), followed by an NIH endocrinology fellowship in 1985. She returned to Minnesota as assistant professor of pediatrics in 1986 and joined the IU faculty in 1988.
She is married to classmate Mark D. Pescovitz, MD, whom she met at Northwestern's medical school on the first day of new student week. He is professor of surgery and microbiology and director of organ transplantation at IU. The couple has three children.
Service awards were presented during the weekend to two individuals who have provided countless hours to support Northwestern's medical school: Andrew D. Bunta, MD, Class of 1967, who completed residency training at Northwestern and now serves as assistant professor of orthopaedic surgery, and Robert M. Vanecko, MD, Class of 1961, professor of surgery. Both have held leadership positions in the Medical Alumni Association.