Free Public Lectures Focus on Ethnicity and Disease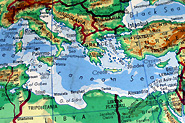 Ethnicity distinguishes people in many ways from language to culture. Unfortunately, certain genetic disorders also follow along the same lines and frequently occur among different ethnic populations. Discussing DNA, mutations, and dominant and recessive inheritance, Ira S. Salafsky, MD, assistant professor of clinical pediatrics, will speak on "Ethnicity & Disease" at two free public outreach programs this month.
Dr. Salafsky's lecture will cover genetic diseases common to the Ashkenazi Jewish population, sickle cell disease, cystic fibrosis, and other common genetic disorders. About half of the 90-minute program will be devoted to audience questions. The same lecture will be presented twice: on Tuesday, March 16, from 6:30–8:00 p.m., in the Norris University Center on Northwestern's Evanston campus, and Wednesday, March 17, from 6–7:30 p.m., in the Pritzker Auditorium at Northwestern Memorial Hospital. Open to the public, a reception will be held a half hour before the beginning of each lecture.
Recognized in the area of pediatrics in Chicago magazine's "Top Doctors" issue (January 2004), Dr. Salafsky earned his MD degree at Northwestern in 1965. His interests include genetics and providing care for children with birth defects.
Funded by the Herman M. and Bea L. Silverstein Medical Research Fund for Genetic Medicine, the Silverstein Lecture Series offers a forum where the public can hear experts use "plain" English to address specific topics of widespread interest in the field of genetics. Lecture series sponsors include the Center for Genetic Medicine, Evanston Northwestern Healthcare, and Northwestern Memorial Hospital.
For additional information, call the Center for Genetic Medicine at 312/695-1222 or visit www.cgm.northwestern.edu