Medical Student Appears on "Wheel of Fortune"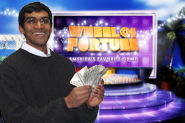 Second-year Feinberg School of Medicine student Ron Chacko says his mother is a big fan of the game show, "Wheel of Fortune."
"Growing up I used to watch 'Wheel of Fortune' almost every weeknight with my mom" at their home in Memphis, Tennessee, he says. "When I heard the show was holding auditions at Northwestern during my senior year, I went to try out mainly because I thought it would be a fun experience to tell her about."
Chacko was in class when his name was drawn as a contestant, but a friend informed him that he was called to the auditions. The audition consisted of three students simulating an actual game with introductions and one puzzle to solve. Chacko solved the puzzle. "I must have done something right," he says, "because I received a letter inviting me to the greater Chicago auditions. They had a little wheel similar to something you'd find in a board game and a white-out board they used to write out the puzzles.
"They were especially interested in how contestants reacted to landing on 'Bankrupt.' When I scowled after landing on it, the producers told me, 'Hey, you have to be more excited!' I perked up. Overall, I had a lot of fun with it."
Once he was chosen to appear, Chacko went out to the program's taping in Los Angeles on December 4. Before returning to Chicago, Chacko also presented a poster he coauthored with Charles L. Bennett, MD, PhD, professor of medicine at the Feinberg School, and the Research on Adverse Drug events and Records (RADAR) team at the annual American Society for Hematology meeting in San Diego.
Chacko appeared on the January 15 airing of the show, solving puzzles such as "Patchwork quilt," "All the world's a stage," and the final puzzle, "bobsled team," which won the game. He won nearly $35,000 and a seven-day trip for two to the Alyeska Resort in Alaska.
Says Chacko, "The greatest part of the whole experience was hearing from old friends from high school, college, and my fraternity, Delta Chi, who now live all over the country and happened to watch the show. I even heard from an old friend in Hawaii."
In Memphis, Chacko's family and friends gathered to watch the show, including an aunt and uncle who drove seven hours to be part of the group. Here in Chicago, about 70 medical school pals, including Dr. Bennett and his wife, watched the show with him at a local pub. "With all the booing and cheering, it was the rowdiest group I've ever watched the show with," Chacko remarks. "It was just a lot of