Annual Report Recognized for Design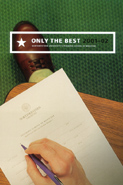 "Only the Best," the Feinberg School's 2001–02 annual report, was recognized among the "Chicago 50" for design at the Unisource Annual Report Show this fall at the Chicago Hilton and Towers. Viewed as the "event of the year" among the graphic design community, the show highlights 50 annual reports that reflect current trends in design in the Chicago marketplace.
Pivot Design of Chicago designed "Only the Best." Georgia-based Unisource, a national paper distributor, sponsored the show.
"Annual reports considered for the Chicago 50 come from a variety of sources, including Fortune 500 companies, nonprofit organizations, museums, and small businesses," says Unisource's Andrew Dembitz, director of the show. "Some of the annual reports are beautiful, with a distinct visual appeal, while others are more traditional and straightforward."
In its 14th year, the annual show draws graphic designers not only from Chicago, but from Indiana and Wisconsin as well. In addition to paging through the annual reports, attendees learn about the objective of each piece and how the design approach and production method chosen contribute to meeting that objective.
Having an annual report selected for the Chicago 50 is a coup for designers, says Dembitz. "Because this is such a high-profile event, Chicago 50 designers can count on their work receiving a great deal of exposure among their peers."
Visit http://www.feinberg.northwestern.edu/ar2002/index.htm to view the annual report.