Volunteers Needed for Clinical Trials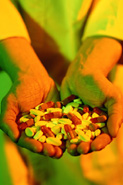 Do you want to improve your health and at the same time aid medical progress? Consider participating in a clinical trial at Northwestern University's Feinberg School of Medicine or one of its affiliated teaching hospitals in the McGaw Medical Center of Northwestern University.
Clinical trials are carefully constructed research studies to test the safety and effectiveness of new drugs or procedures or even to study the natural progression of disease. Last year individuals from all over the Chicago area were enrolled in more than 150 clinical trials at Northwestern University. These individuals were motivated by numerous factors including seeking relief from the symptoms of disease, contributing to scientific knowledge, helping future generations, and having access to medical care and sometimes free medications.
"We always need more subjects," says Peri Todd, director of clinical trial services for the Northwestern Center for Clinical Research (NCCR). "Women and minorities are especially encouraged to enroll in clinical trials, so we can determine if differences exist in how medications work in these populations."
Those interested in participating may visit the NCCR Web site at www.nccr.northwestern.edu to obtain information about the types of clinical trials available and criteria for subjects. NCCR primarily coordinates pharmaceutical-sponsored clinical trials, but its Web site contains links to other trials offered at Northwestern such as those offered by the Robert H. Lurie Comprehensive Cancer Center of Northwestern University and the McGaw hospitals (Children's Memorial Medical Center, Evanston Northwestern Healthcare, Northwestern Memorial Hospital, and Rehabilitation Institute of Chicago). Participants in clinical trials usually receive reimbursement for travel expenses including parking.
Prospective participants also may call the NCCR at 312/503-6227 for more information.