Reuben Feinberg Portrait Hangs in Ward Lobby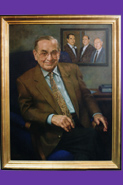 Reuben Feinberg, the Chicago businessman whose generosity led to the renaming of Northwestern's medical school to the Feinberg School of Medicine in February 2002, will be known to future generations of medical students and faculty and staff members, thanks to a portrait of him that hangs in the lobby of the Montgomery Ward Building at 303 East Chicago Avenue. The Ward Building, completed in 1926, is the oldest building in the medical school complex.
Painted by artist John Boyd Martin of Overland Park, Kansas, the portrait was unveiled at a memorial service held for Mr. Feinberg on May 19 on Northwestern University's Chicago Campus. Mr. Feinberg is shown sitting in an office; a painting on the wall contains images of his three brothers, Bernard, Louis, and Samuel. The four Feinberg brothers had founded the Joseph and Bessie Feinberg Foundation in memory of their parents.
Mr. Feinberg's generosity and that of the Feinberg Foundation resulted in the creation of the Feinberg Cardiovascular Research Institute, Frances Feinberg Clinical Neurosciences Research Institute, and an endowed professorship in ophthalmology (held by department chair Lee Jampol, MD) at the medical school. Northwestern Memorial Hospital also named its inpatient tower the Feinberg Pavilion.