Schweitzer Fellows Help the Underserved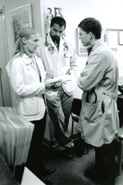 Just as the program's namesake Dr. Albert Schweitzer helped needy people in Africa, the 28 health care students participating in the 2003–04 Chicago Area Schweitzer Fellows Program will help the underserved as they work with agencies providing health care to fragile populations. Among next year's Schweitzer fellows are first-year Northwestern medical students Adam J. Hunninghake of Iowa City, Iowa, and Dana M. Smith of Columbia, Maryland.
Schweitzer fellows each receive a $2,000 stipend and contribute 200 hours of community service at many sites including Community Health (pictured here), a free clinic on Chicago's West Side where Northwestern faculty members and students also volunteer. The fellows also attend educational seminars during the summer and throughout the school year.
Established in 1991, the U.S. Schweitzer Fellows Program has selected more than 800 students in Boston, New Hampshire/Vermont, North Carolina, Pittsburgh, Baltimore, Chicago, and New York who are enrolled in health-related educational programs for year-long community service fellowships. The Chicago program is run by the Health and Medicine Policy Research Group, which is headed by Quentin D. Young, MD, a 1948 Northwestern medical graduate.