Northwestern's Feinberg School Moves Up in Rankings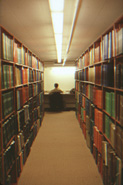 In its annual survey of deans and senior faculty members at the nation's 125 medical schools, U.S. News & World Report has ranked Northwestern University's Feinberg School of Medicine 21st (up from 22nd last year) among research-intensive medical schools. Northwestern holds that ranking in a three-way tie with the University of Chicago and University of North Carolina-Chapel Hill. The rankings were released in the magazine's April 14, 2003, issue.
The criteria for ranking research-oriented medical schools are research funding (30 percent), student selectivity (20 percent), faculty resources (10 percent), and reputation (40 percent). Reputation is equally divided between reputation among deans and senior faculty members and among residency program directors.
Two areas where Northwestern showed considerable improvement in the last year are reputation among residency program directors (13th, up from 18th last year) and student selectivity (12th, up from 21st last year). The student selectivity criteria consists of the fall 2002 entering class' Medical College Admissions Test (MCAT) scores (65 percent), undegraduate GPA (30 percent), and the percentage of the applicant pool accepted (5 percent).
Feinberg School officials recognize that the U.S. News & World Report rankings do not measure the quality of the educational experience, the caliber of the faculty, or the skills and talents of graduates of different schools. Yet the rankings are widely reported and used. When alumni and others ask about the rankings, Dean Lewis Landsberg, MD, frequently comments, "We ignore them at our peril."
(U.S. News & World Report cover reproduced with permission.)