Medical Students Named Research Scholars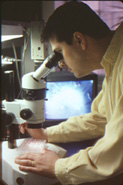 Two students at Northwestern University's Feinberg School of Medicine have been selected for the 2003–04 Howard Hughes Medical Institute Medical Scholars Research Program at the National Institutes of Health (NIH) in Bethesda, Maryland. Third-year student Maulik D. Majmudar of Germantown, Maryland, and second-year student Sima P. Patel of Diamond Bar, California, will be among 50 medical students from across the country who have the opportunity to become immersed in research full time. The scholars receive a stipend, subsidized housing on the NIH campus, and participate in research projects and weekly seminars during the year-long program.
Jack F. Snarr, PhD, associate dean for student programs at the Feinberg School, notes, "In the 20-year history of the Howard Hughes research scholars program, about 20 Northwestern students have participated.