16th Century Meets the 21st on Vesalius Web Site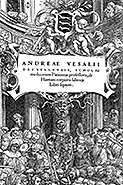 A translation of Andreas Vesalius' anatomy atlas, De Humani Corporis Fabrica (On the Fabric of the Human Body) can now be viewed on the Web at vesalius.northwestern.edu/ . First published in 1543 and revised in 1555, the atlas "offers a detailed account of human anatomy and a selection of beautiful and intricate anatomical drawings," according to the site. It is the first English translation of the atlas to be published online.
Northwestern faculty members Malcolm C. Hast, PhD, professor emeritus of otolaryngology—head and neck surgery, and Daniel Garrison, PhD, professor of classics, are the translators and principal investigators on the project, which is supported by the National Endowment for the Humanities and the National Library of Medicine.