Research Grant Honors Ann Landers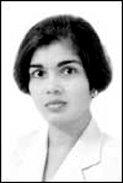 Seema Singhal, MD, professor of medicine at the Feinberg School, has received a two-year, $200,000 research award to investigate the genetic abnormalities associated with multiple myeloma. The Ann Landers Research Fund Award was presented to Dr. Singhal at a dinner in Chicago on March 4 by the Multiple Myeloma Research Foundation.
The award honors the nationally syndicated Chicago Tribune columnist Ann Landers, whose real name was Eppie Lederer, who died of multiple myeloma in June 2002. The blood cancer afflicts more than 45,000 people in the United States; about 15,000 new cases are diagnosed each year. Funding for Dr. Singhal's award came from the Chicago Tribune Foundation and the columnist's daughter, Margo Howard, who each contributed $100,000.
Dr. Singhal, who is director of the myeloma program in the Division of Hematology/Oncology at Northwestern, is a leading authority on the use of novel therapies, including hematopoietic stem cell transplantation, to treat myeloma. She is investigating gene function in myeloma and the use of adult stem cells to repair damage to the heart and central nervous system.
After receiving a medical degree from Bombay University in India, Dr. Singhal completed residency training in internal medicine and neurology at Hadassah University Hospital in Israel. She held faculty appointments at Royal Marsden Hospital in the United Kingdom, the University of Arkansas, and University of South Carolina before joining Northwestern in 2000.